YouTube Advertising is an untapped market for small businesses. Only 9% of small businesses use YouTube advertising, unlike all other outlets (Google, Facebook, Instagram, Twitter, etc).
Video is taking the digital world by storm. 83% of people retain what they see in a video ad over a text or still picture ads. Marketers across the globe are taking advantage of this.
Understanding how to start using YouTube to promote your business is an absolute must.
Before you start advertising your business on YouTube, you will need to ensure that you set up an account for the business.
There are a few tips to making sure that you do this properly.
Choose your ChannelArt wisely. It is very impactful on wow your business is viewed.
In your profile, ensure that you add links to your website and contact information.
YouTube Channel Description – A good description will help to get viewers to watch your content.
Feature Video – Every business should have one of these on their channel. It is a main video that gives people an idea of your company.
Once you have your channel set up, the next thing you need to do and add your first video.
Go to your channel on YouTube. Once there you will see something like the following: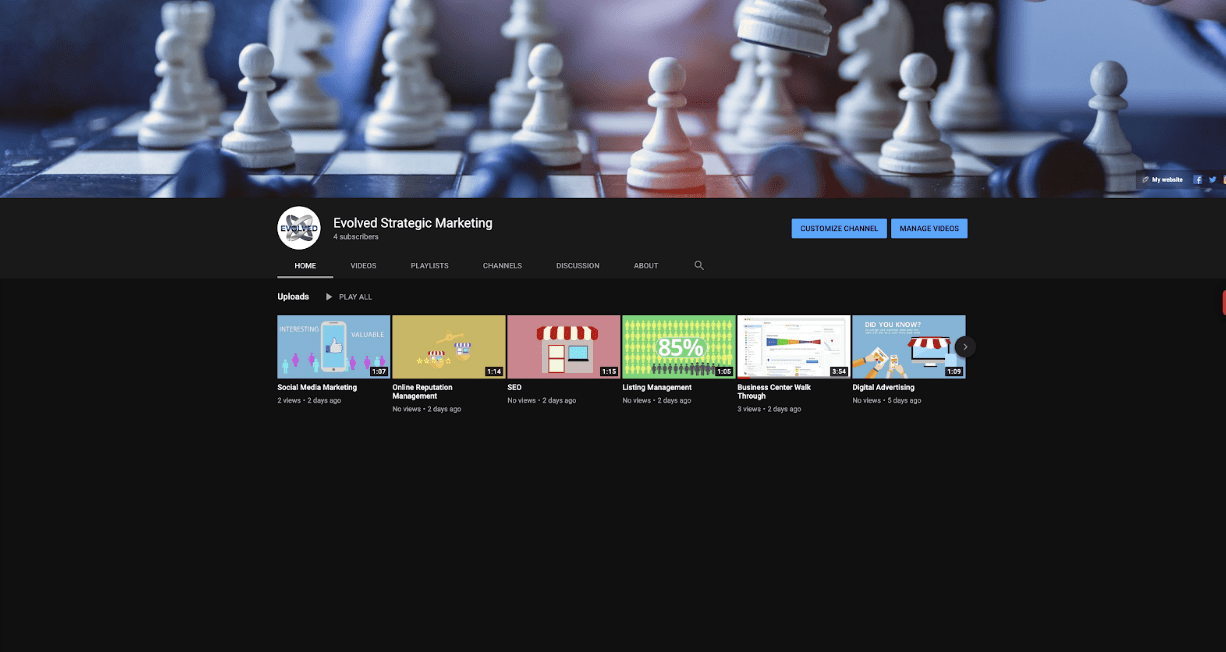 In the upper right corner you will see a button "Manage Videos". Click on it.
It will take you to another page called "Channel Videos". This is where all the videos you have uploaded to your page are stored.
It looks like this: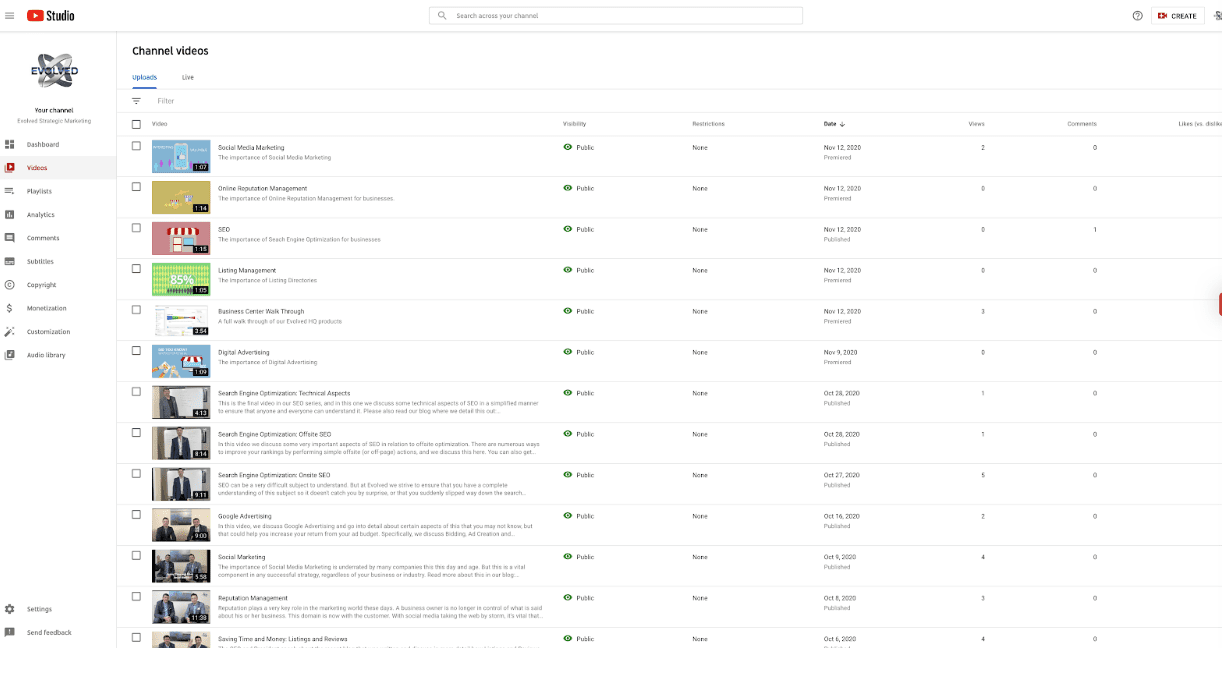 In the very top right corner you will see a button labeled "Create". Hit that button and a drop down will show. It says upload videos or Go Live. Choose "upload videos".
It will open up a screen to allow you to upload your video.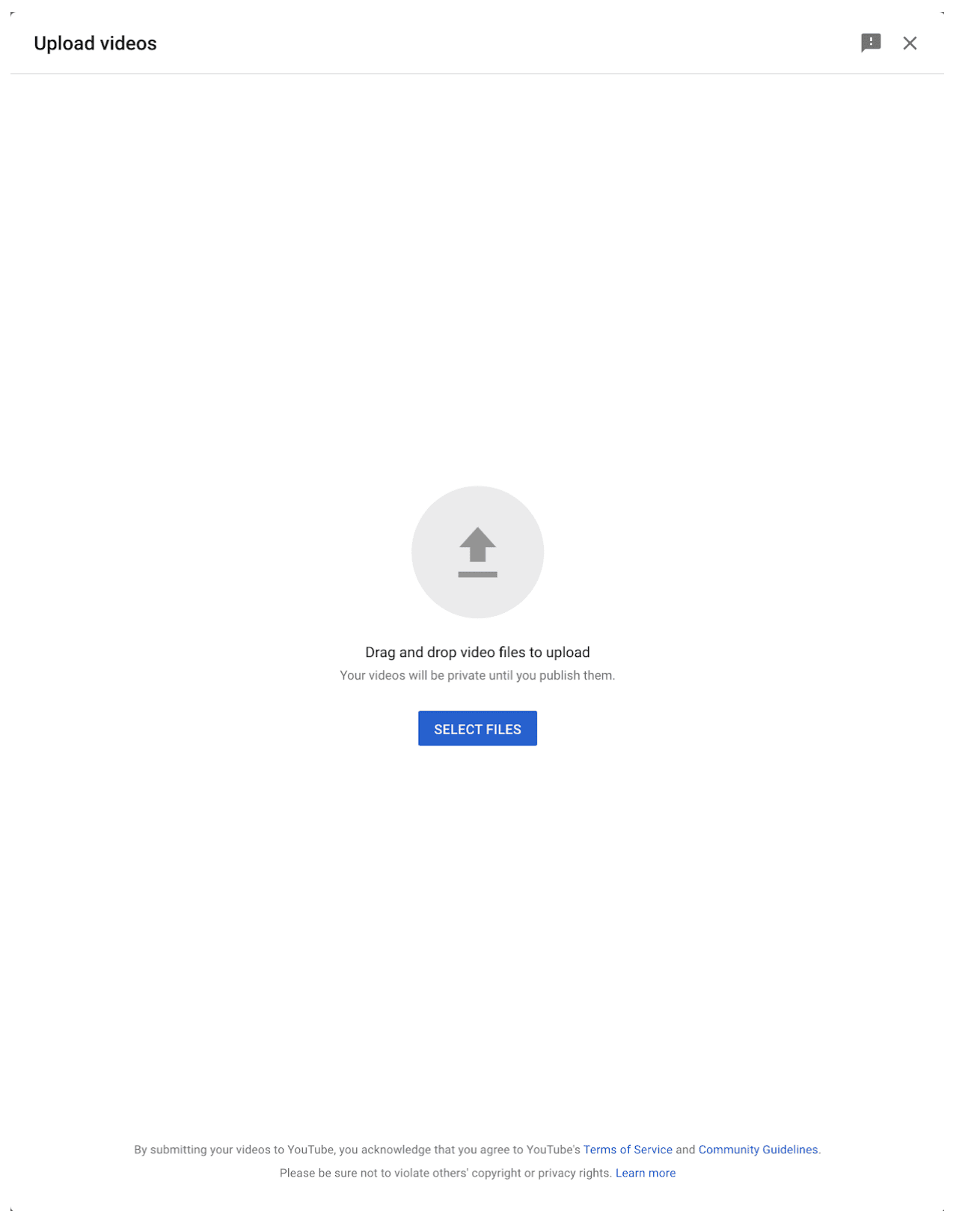 It is pretty self explanatory.
Once you have picked your file and it starts uploading into the YouTube system it will take you to another screen to allow you to put in all the basic information and it will look like this: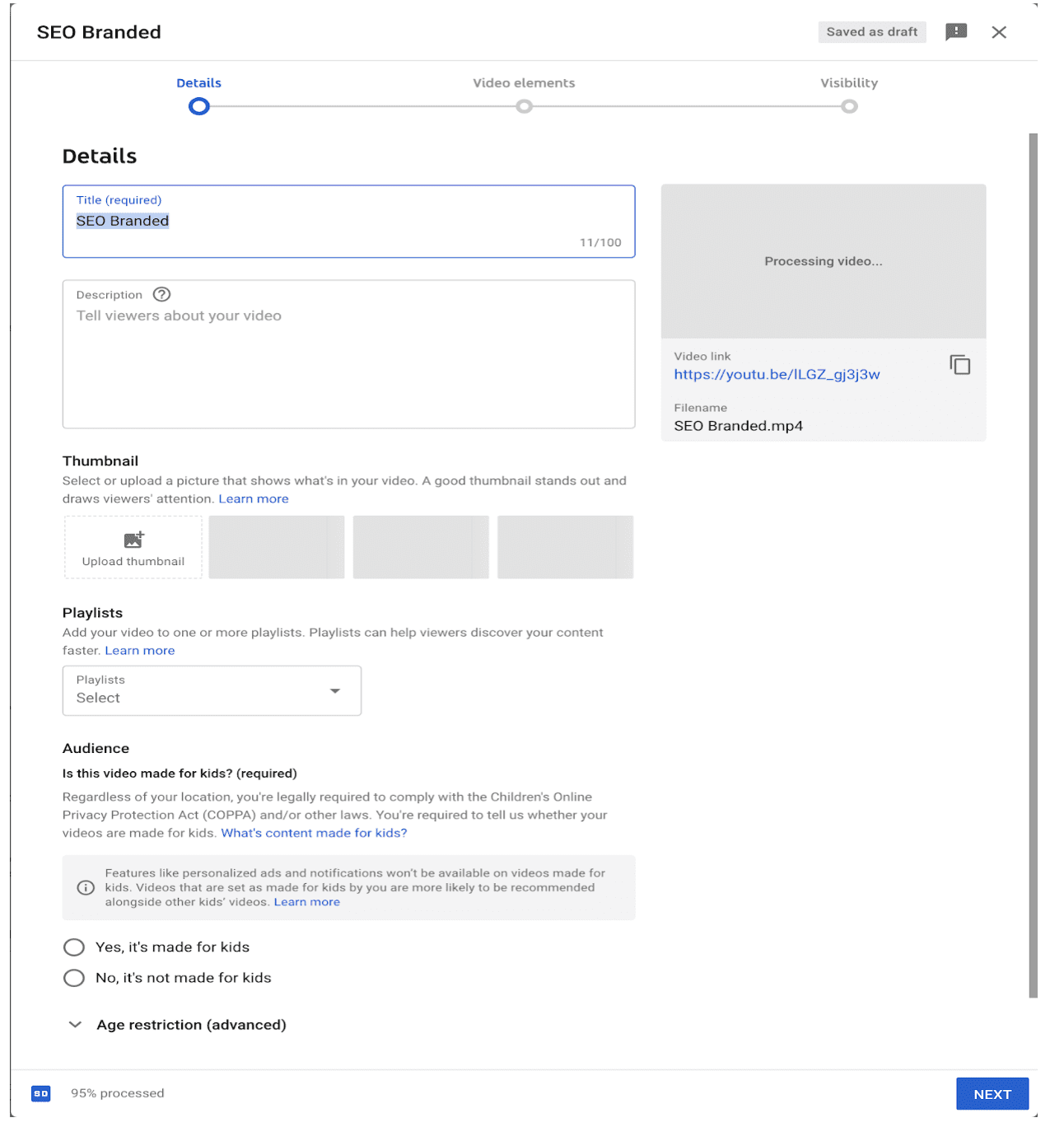 Title the video. Ensure the title actually has something to do with the video or you will mess up the search engines when trying to find the video.
You can use a thumbnail from the video itself or you can upload a specific graphic you have pre-made to give the exact message you want.
Don't worry about the playlist for right now.
Pick "No, it's not made for kids" unless for some reason you are specifically making content for kids, but the vast majority of people will not be.
There is a drop down menu for More Options. Click it to open up the options. Don't worry about the paid promotion.
Next it will ask you for tags. These are words that you can use to help YouTube users find your content.
Example – If you are speaking about how to lay flooring tile, you might want to add tags such as "flooring, tiles, DIY, etc.
Select the language of the video. Don't worry about the caption certification.
Pick the recording date and location. This will be used later in advertising for demographic use.
Click the "allow embedding" box.
Click the "Publish to subscribers feed and notify subscribers" box
There will be a drop down menu of categories that you video might fall into. Find the right one and select it.
Pick the "Comments and ratings" notification you are comfortable with.
Hit the next button.
It will take you to the next section.
It will take you to another page. Here you can put what are called end screen. Here you can put more of your own videos for people to watch.
Once you have completed putting the other videos at the end of your video it will take you to the last page.
It will look like this: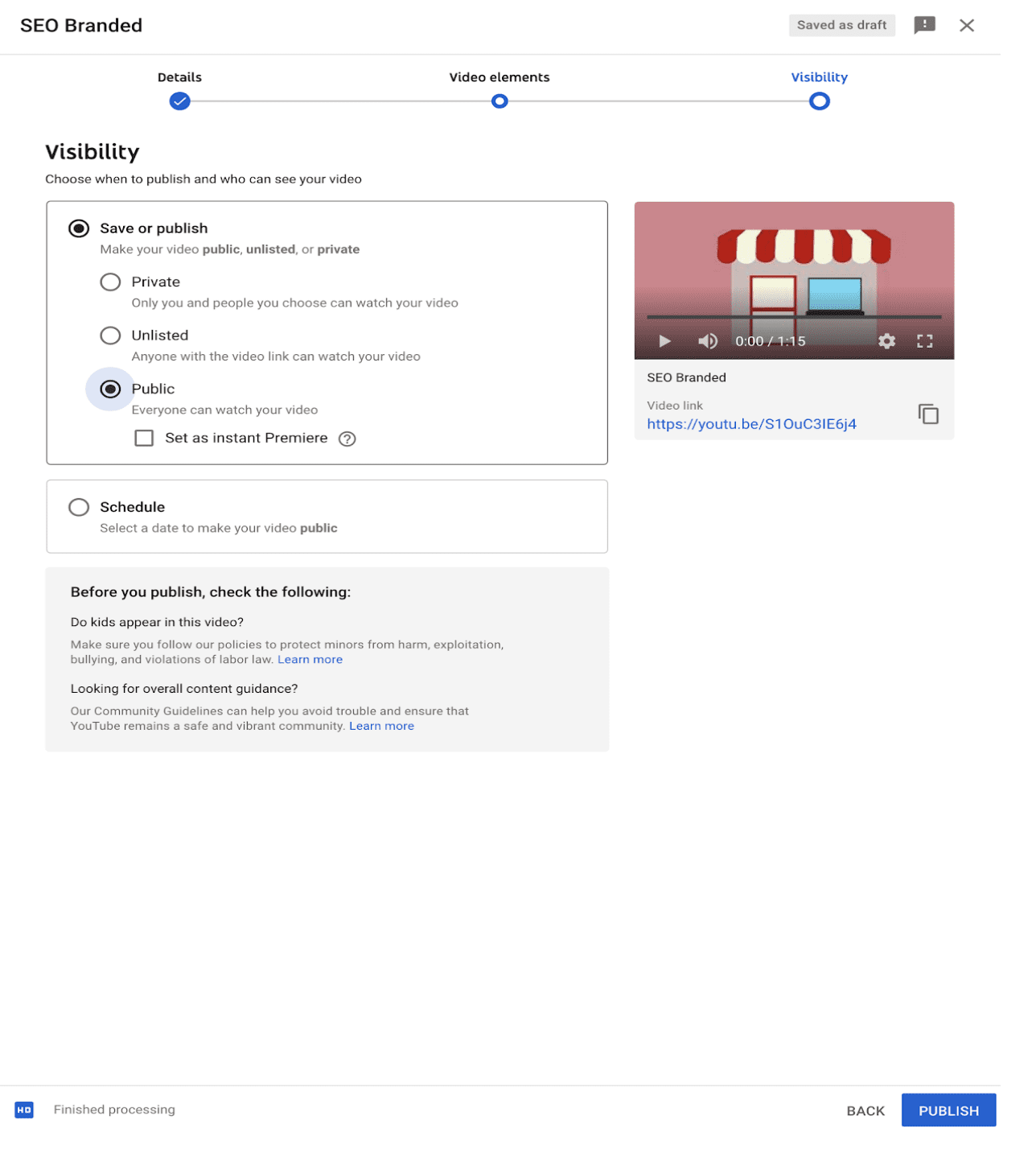 The first section will show how you want the video published. I would assume in almost all cases this would be public.
If you do not want to have the video be released immediately, you can schedule it out for the exact time you want it shown.
Then hit the publish button and your video is uploaded.
Once the video has completed being uploaded, you will need to make your way over to your Google Ads account (http://ads.google.com/).
Once you get into your Google Ads account. Head to all campaigns. Once you do this it will open up this screen:
Determine what goal you are trying to achieve with your YouTube ad. This will depend on your business model, but most likely it will be either leads or sales.
Just click whichever box applies.
It will take you to the next section. This is where you pick the type of advertising you would like to do. You will see this:
Click on the video ad box all the way to the right. Then hit the continue button on the bottom left to go to the next page.
The first thing is to name your campaign. Pick something that will be easily recognizable.
Then it will ask you for your bid strategy. Depending on which goal you picked in the beginning, you will be allowed certain bid strategies. I picked leads, so my two options are Maximize conversions and Target CPA. For other goals there are Maximum CPV (Cost Per View), Target CPM (Cost Per Mile. When you pay per every 1000 views) and Viewable CPM.
If you are looking for leads then I would stick with Maximize conversions.
Then you can pick the budget you want to operate off of. It can be a daily budget or a lifetime budget. Depending on what you are advertising will determine what you choose.
If this is going to be an ongoing campaign then you should choose "Daily Budget". If you are advertising for a specific event, sale, etc. Anything with an expiration date, then you should choose a lifetime budget.
Next is networks. Keep it on the default setting.
Now you will get into location. This needs to be strategic. You don't want to just advertise to the same places. Make sure your advertising location isn't too small or too big. This can make results less effective.
Pick your language.
Once you have gotten to this part you will get into what is called inventory. This is the type of audience you can show your video to. It looks like this: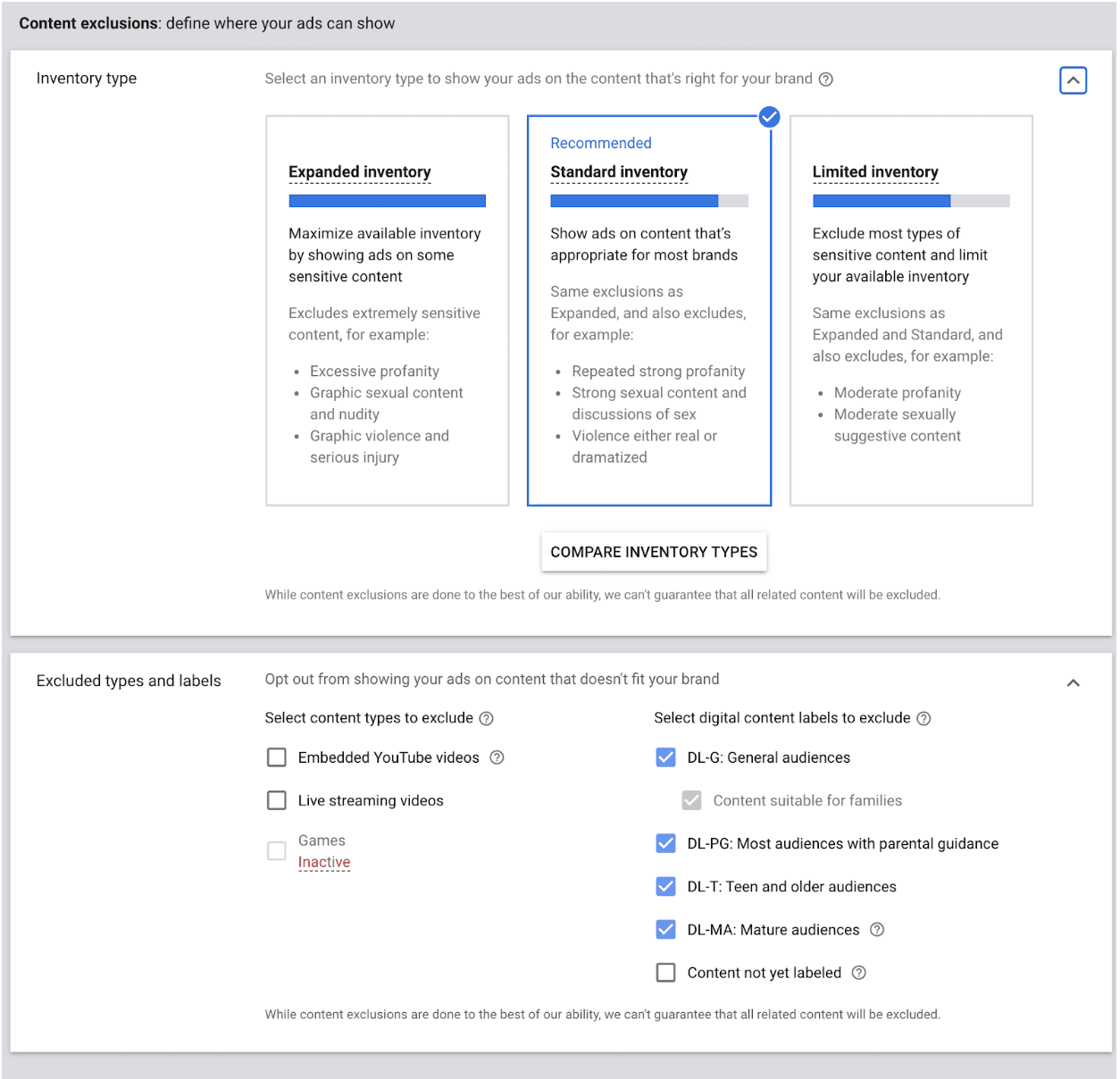 Since this is business advertising, make sure you pick the audience that applies. A standard inventory should be applicable for almost all businesses.
The next action you will take is Ad Extensions. Extension allows you to add additional actions for people to take on the advertisement. Google will suggest different options or you can put in your own. It looks like this: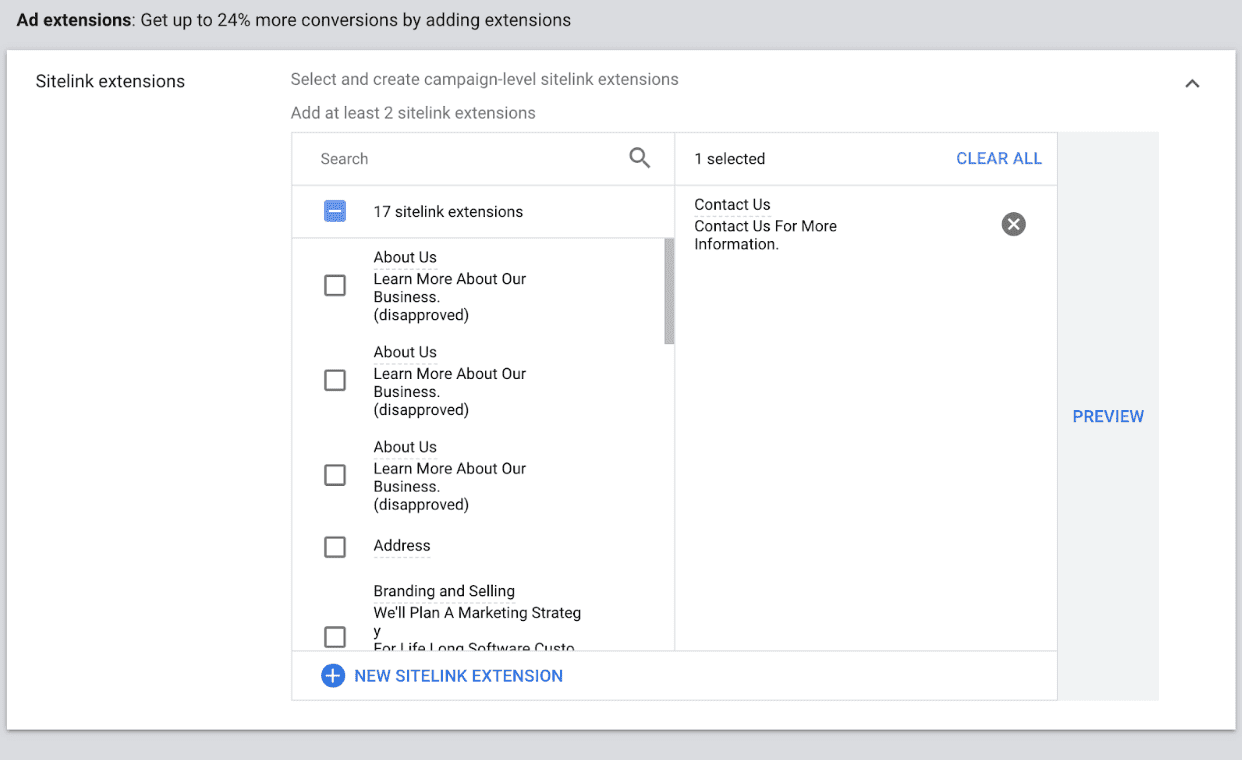 I picked the contact us suggestion by Google. You can put up to two extensions for your YouTube ad.
Once you have completed this step you will move into the Ad group phase. It will want you to pick between standard (for in-steam ads only) or responsive (that can be displayed on multiple formats). I would always choose responsive as your ad can be seen in more places.
Next you will name your ad group. Choose something that will fit the overall subject. Once you have finished this step you will move into your demographics.
If you have your customer personas fully flushed out, this step is very easy. If this is the first time you have done this, it might be a bit more difficult to decide. Think about your existing customers and what brought them into your business.
Once you have fully determined your audience, you will get into keywords. These are the words you will want to show up for when typed into the YouTube search engine. Google will help you out with this. See picture below: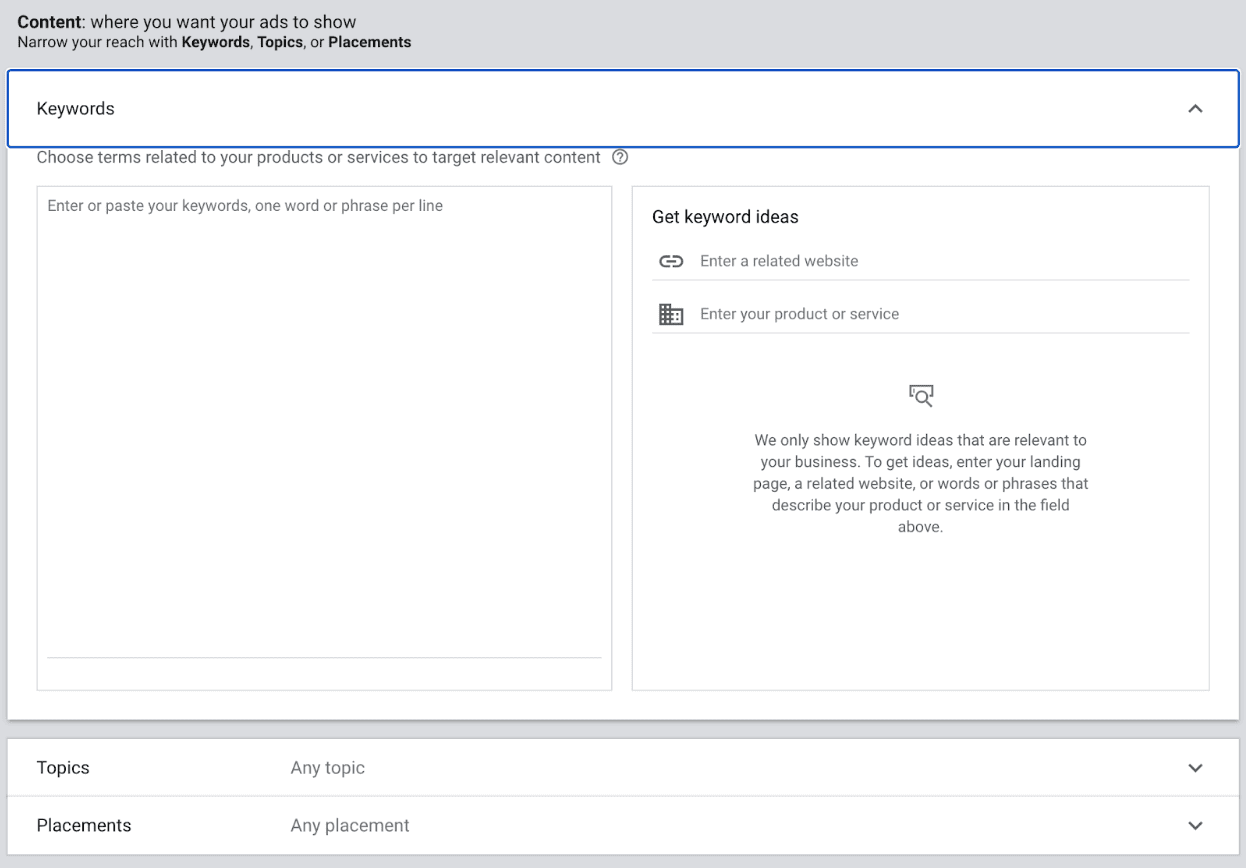 The next subject is topics. It will give you a list of categories as shown below: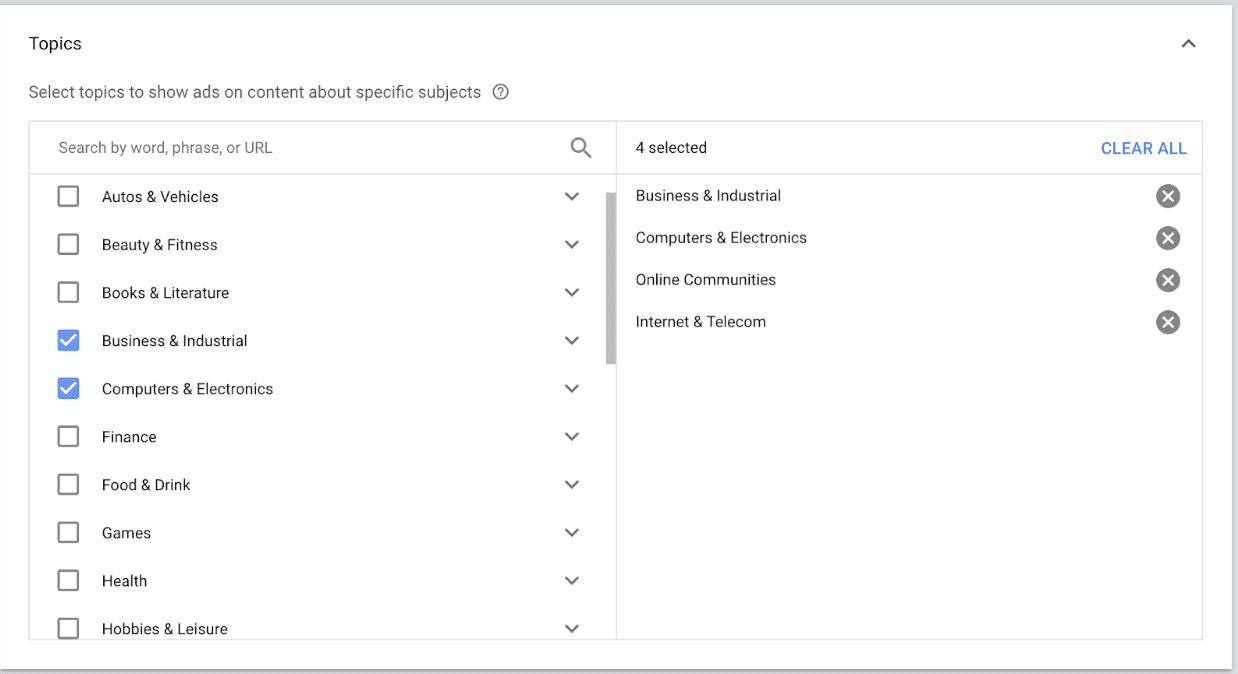 Lastly you will be asked about placement. You can pick where specifically you want to have this placed. Don't worry about this for now. Just let Google decide where to best place the ad.
Now we finally get to actually putting your ad creative together. You go back to your YouTube channel and copy the URL of your video and input it into where it is asked for by Google. See below: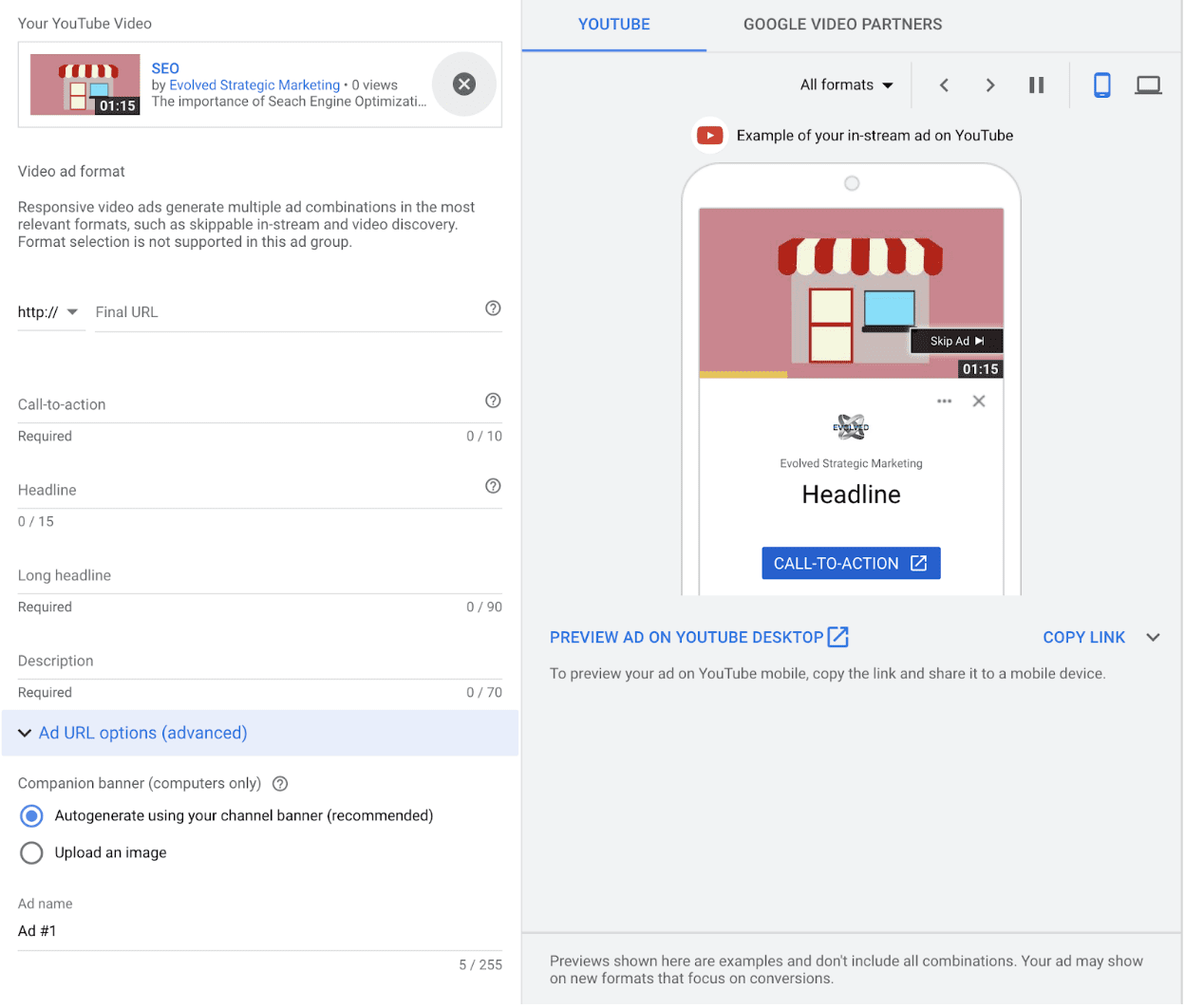 Once you have input your video, it will ask you where the final destination spot is for the person looking at your ad. Copy the URL address for the webpage you want them to land on and paste it.
Next, label your call-to-action button. Just type what you want to say. You have 10 characters to use.
Next put a catchy Headline. You only have 15 Characters.
Then two description headlines of 90 characters each.
Name the exact ad. Press create campaign in the bottom left corner and your ad is ready to roll, once Google has approved it.
There you go! Your video ad is complete and running!
I hope you found the article helpful. Please follow any of our social media accounts or subscribe to our blog to continue to get helpful articles such as this one.