A website is the foundation of any digital marketing. A website's bounce rate is a statistic that shows the percentage of people who land on one page of your website and then leave without visiting any other page of your website.
If a person bounces off your website, search engines tend to think that the person didn't get their questions answered, or they didn't find the content they were looking for. Essentially, your website was not engaging to the visitor.
There is two main reason people use the internet.
To solve a problem or;
To satisfy a need
Therefore, if a person goes to a website, and it does not accomplish either 1 or 2 above, you will generally find that person will bounce off your website in search of a website that will do 1 or 2.
Benchmarks for Bounce Rates
Statistics play a huge role in digital marketing. Having an understanding of what normal bounce rates are, will give you an idea of how your website compares.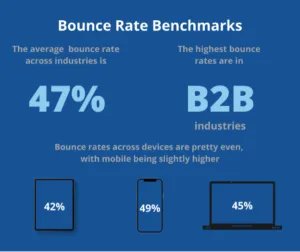 How to Decrease The Bounce
Rate On Your Site
Set realistic goals
Make sure you target the right audience
User Experience is Essential
The Need for Speed
Content is King
Don't Get Complacent
While a business will like to have no bounce rate, this is just unrealistic as a goal. There are a few things that you should do, to set realistic goals.
Looking back at historic data regarding your website's bounce rate. This information can be gathered from Google Analytics.
Comparing your website against industry average and platforms. You can use an article from Contentsquare to help come up with industry averages.
Make sure you target the right audience
As covered above, there are two main reasons that people use the internet.
To solve a problem;
To satisfy a need
Imagine walking into a store called Office Plus, but everything on the shelves has to with home improvement. A person actually looking for office equipment, would leave that store pretty fast.
If a visitor comes to your website looking to solve a particular problem or satisfy a specific need and your website does not do that, or if the marketing you have released does not target the correct people, this could greatly increase your bounce rate.
If your business solves a multitude of problems or satisfies many needs, there are options that you can deploy.
Create landing pages for each of the problems/needs
Write meta descriptions that are useful and attractive to your target audience.
User Experience is Essential
39% of people will stop engaging with a website if images won't load or take too long to load.
It takes about 50 milliseconds for users to form an opinion about your website that determines whether they like your site or not, and whether they leave or not.
47% of Users expect a maximum of 2 seconds loading time for an average website.
As you can see, the experience the public has with your website is important.
Therefore, there are some things that a business can do, to make a website easier for visitors to use:
Easily readable text with the use of larger fonts
Bulleted lists
White space
Good color contrast
Large headlines
Easy to find buttons
Navigation that makes sense
Place ads on the side
Avoid pop-ups
Each of the above points makes it easier for a visitor to navigate your website.
In the previous section, we mentioned how fast people expect a website to load. With the advent of mobile devices, the need for speed has become paramount for websites.
More than 65% of internet usage is being done on mobile devices, and attention spans are becoming less and less. The longer a website takes to load, the higher your bounce rate will be.
There are several factors that can play a part in the slow loading of a website:
Image size
The server that is hosting your website
The self-loading content that was built for the site
The standard is 2 seconds. Test your page speed regularly, and ensure that your website loads in this amount of time.
Content is King
We are sure that you have heard this statement before. The truth is, content can make or break a website.
Content needs to be :
Engaging – Does your content make
5. Produce high-quality content.
Content can make or break your website visitor's experience.
Your content should be:
Engaging—Does your content keep people on the page, continuing to read?
Understandable—Is your content understandable to the casual visitor? Does it answer the questions they would want to know?
Relevant—People come to your website for a reason. Make sure your website is set up for them, or at least the page they land on.
Test your website with your target audience. They can give you an unbiased viewpoint, and make the website more relatable.
As discussed at the beginning of this article, a website is the foundation of all digital marketing strategies.
Too many times, businesses put up a website and then leave it for a few years. This is the wrong approach to a website.
A business should be continuously updating its website. New pages, new blogs, news, business updates, etc.
This will ensure the website doesn't become stale.