Many local businesses have physical locations where potential customers or existing customers can enter and get a service or product.
For these businesses, the only reason they even have an online presence is for new potential customers to find them and enter their establishment, at which point you can upgrade them from someone curious about your business to an actual customer.
As a potential customer it can be extremely annoying to drive to a location to find it has moved or that a service or offering is no longer available. When a potential customer finds that information online doesn't match what actually exists within a business or in a store they lose confidence in that business.
Therefore these are some things all local businesses should ensure are correct for their business
1. Hours – Your hours of operation need to be spot on!
If you are a potential client and you checked online to ensure a business is open, go to the business and find the business closed due to a change in business hours…you have probably lost that customer for life. They just wasted their time to try and pay your business money…only to find you are not open.
Hours of operation is the one of the most looked at aspects of any business listing and people expect this information to be on a businesses page.
2. NAP – If you don't list an address then you don't have a NAP citation.
NAP = Name, Address and Phone number. Therefore if you have a business listing without the address…then you don't have a NAP citation and NAP citations are VERY, VERY good things to have for Local and Organic SEO.
As a business you make money when people purchase your product or service. If they can't find you…they most likely won't be doing any buying. Food for thought.
The USPS is generally the go to for all search engines. If USPS doesn't match what you have listed online…there will be problems. So ensure this is correct for your business.
3. Mobile – If they can't find it using their phone, they don't want it.
We are coming to the end of 2020 and if you don't know by now that over 50% of all internet usage happens on mobile devices…then you haven't been paying attention.
People don't carry desktop computers with them when they are on the go. They carry their phones. Therefore if you want them to be able to find you…they will need to access your website on a mobile device.
Your business needs to have a website that is built with responsive design. Meaning that no matter what device you look at the website on…it still looks good.
4. Website – Still the first impression for most potential customers.
Before you ever see a potential customer…they most likely know everything they can about your business. They will have "internet stalked" your business. That is the way of the world today.
If your businesses website hasn't been updated since sometime in the early 2000s, you are going to be out of date and look….old. Not up with the times and that leaves a bad first impression.
A businesses website should be updated every three years. If you fall outside that time frame…get your website updated today.
5. Local – Google 3 Pack is the most trusted!
Most people want something local. They feel it will allow them more control in the outcome of the product…even if it doesn't.
Think about it. Would you rather use a local company or some company in another state? That is why the Google 3-Pack is one of the most trusted sources on the internet.
Working on each of the above points will help tremendously in getting a business on the Google 3-pack. Example below: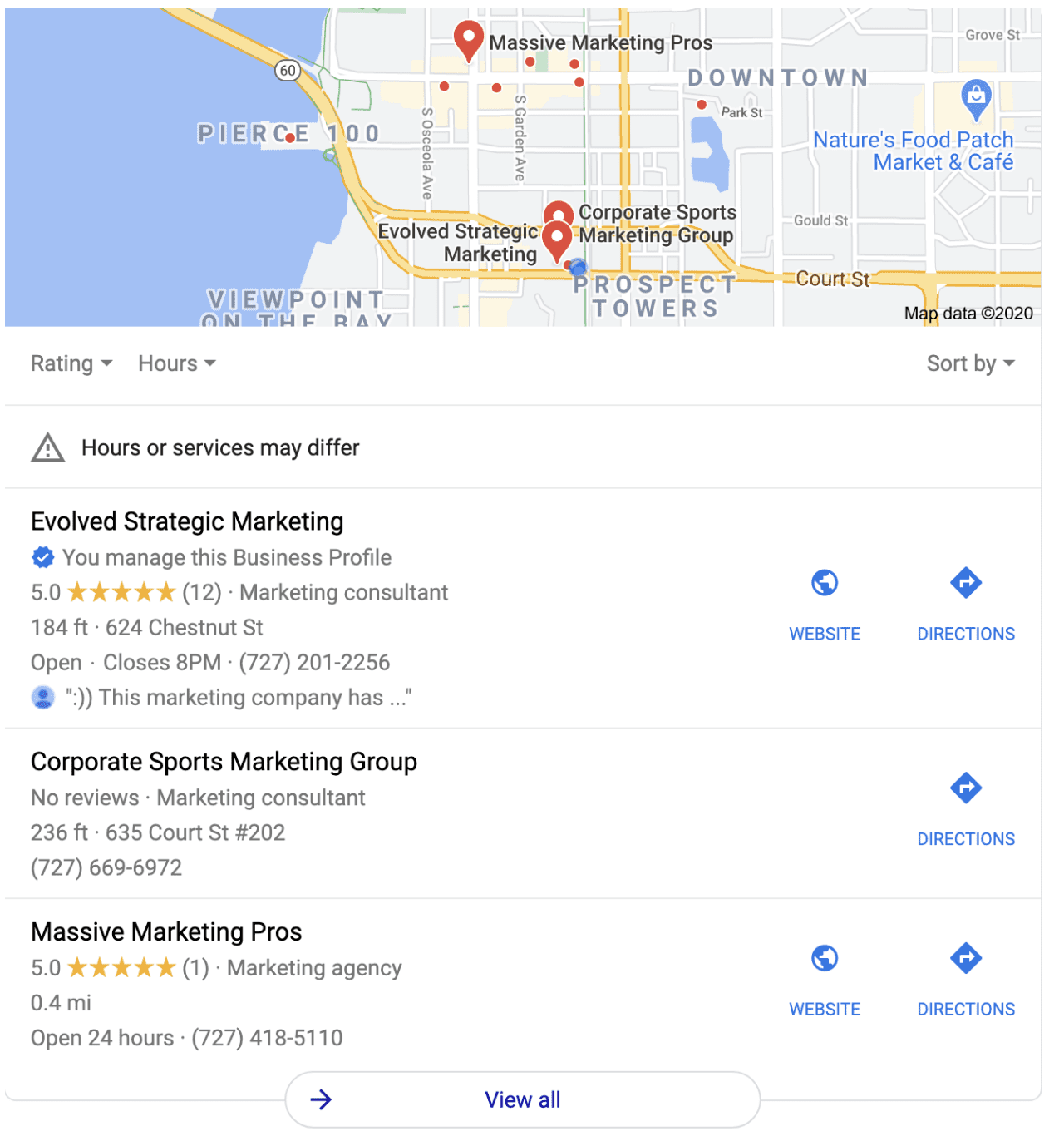 We hope that you have found this article helpful. If you would like to continue to see such articles, be sure to follow us on any of our social media accounts or subscribe to our blog.