Hello there, I have a helpful tip on building citations that many businesses seem to overlook. Regardless of whether you're using our listing service (GetFound) or creating citations on your own, it's crucial not to underestimate the importance of the description field.
Why Business Descriptions are Important
Suppose you purchase from our service and are filling out the description section. This field provides an opportunity to include additional keywords. While I wouldn't claim that using keywords in your Google Business Profile description directly affects your rankings, including them in your citation description is highly significant.
To illustrate, consider the description of the law firm, "Law Office of Alex Hernandez" (who are not our clients). They mention "At the Law Office of Alex Hernandez, we've been advocating for the rights of injured clients for over 30 years".
The frustrating issue at hand is that hardly anyone searches for "advocating for the rights of injured clients" on Google. If someone in Clearwater Florida, is seeking a personal injury lawyer, they would type in "Personal Injury attorney Clearwater Florida" in their Google Search.
Therefore, it's crucial to include those relevant keywords in your description.
How to Improve your Business Description
To rephrase this for the example brand, a possible version would be "For exceptional personal injury representation in Clearwater, Florida, choose the Law Office of Alex Hernandez". This simple tweak has a significant impact as it incorporates the keywords "personal injury" and "Clearwater, Florida".
It's essential to consider how Google's algorithm functions. Your Google Business Profile is like a business entity at Google that the algorithm continuously crawls to gain a better understanding of your business. This means it scrutinizes your citations as well.
In this scenario, The Law Office of Alex Hernandez is not providing Google with the information it requires to comprehend their business. Hence, the objective with the description is to include additional keywords, so that you can inform Google about your business and the keywords you want to rank for.
In the Beginning…
Additionally, it's crucial to emphasize those keywords upfront since some websites only allow a limited amount of space, such as Foursquare. Strive to incorporate those valuable keywords in the opening sentence.
In you take a look at The Law Office of Alex Hernandez website, it's evident that they prioritize being a Personal Injury attorney.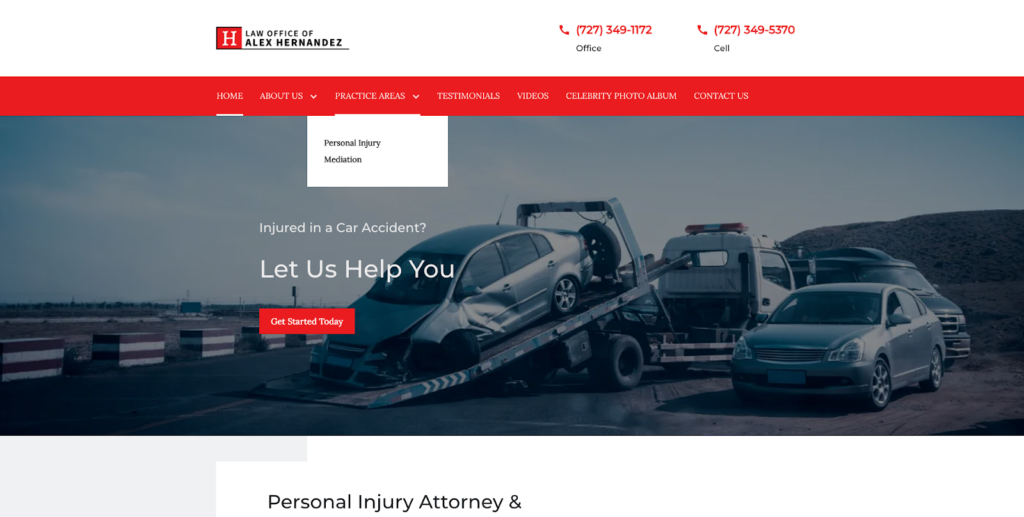 Personal Injury is a crucial keyword that matters to them, and they should undoubtedly include them in their citation description, which they are not doing currently.
When you add a business listing or order citations through a service like ours, it's crucial to keep this in mind. This practice will enable you to maximize the benefits of your business listings.
Until next time!