Maximizing Your Business Presence on Google: November 2023 Updates
In the ever-evolving digital landscape, staying on top of the latest updates and trends is crucial for businesses looking to enhance their online presence. Google Business Profile (GBP), formerly known as Google My Business, has been a valuable tool for companies to connect with potential customers. In November 2023, Google introduced some exciting new features to GBP. In this blog, we'll explore these updates and explain how you can leverage them to boost your business and why partnering with us is the key to success.
1. Adding Products and Services
One of the most significant updates to Google Business Profile in November 2023 is the ability to showcase your products and services. This is a game-changer for business owners, as it allows you to provide potential customers with a more in-depth look at what you have to offer. Here's how you can make the most of this feature:
A. Showcase Your Products: Upload high-quality images of your products, along with detailed descriptions and prices. This helps customers get a better idea of what you sell before they visit your store or website.
B. Highlight Your Services: Describe your services in a clear and concise manner. Include essential details such as pricing, service areas, and duration. This information helps potential customers decide if your services meet their needs.
C. Use Categories and Attributes: Categorize your products and services appropriately to make them easy to find. Utilize attributes like "bestseller" or "new arrival" to draw attention to specific offerings.
2. The Importance of Optimizing Products and Services
Optimizing your products and services on Google Business Profile is vital for attracting more customers and improving your online visibility. Here's why you should focus on optimization:
A. Enhanced Search Visibility: When you provide comprehensive details about your products and services, Google can better match your business with relevant search queries. This increases your chances of appearing in local search results, attracting potential customers who are actively seeking what you offer.
B. Improved User Experience: Clear, well-organized information makes it easier for customers to understand what you provide. An optimized GBP listing can improve user engagement and increase the likelihood of potential customers taking action, such as visiting your store or website.
C. Build Trust: Providing accurate and detailed information builds trust with potential customers. They are more likely to choose your business when they can see exactly what they'll get.
3. How Evolved Marketing Can Help
At Evolved Marketing, we understand the significance of an optimized Google Business Profile and its impact on your business. We offer a range of services to help you make the most of the November 2023 updates:
A. GBP Optimization: Our experts will ensure your profile is fully optimized with detailed product and service information, compelling images, and accurate attributes.
B. Content Creation: We can help you create engaging and informative content to showcase your products and services effectively.
C. Local SEO: Our team specializes in local search engine optimization, ensuring your business ranks high in local search results, driving more organic traffic.
D. Reputation Management: We'll help you manage and improve your online reputation, including customer reviews and ratings, to build trust and credibility.
The 2023 updates to Google Business Profile bring exciting opportunities for business owners to enhance their online presence and connect with potential customers more effectively. By showcasing your products and services and optimizing your GBP listing, you can increase your visibility, credibility, and customer trust.
Partnering with Evolved Marketing can take your business to the next level by leveraging these updates to their fullest potential. Don't miss out on the chance to boost your business in the digital age. Contact us today and let us help you make the most of your Google Business Profile.
In this digital era, the importance of reviews for small businesses cannot be overstated. They have become a crucial part of the decision-making process for consumers, shaping their perceptions and influencing their purchasing decisions. As such, understanding and leveraging the power of reviews is vital for small businesses looking to thrive in today's competitive marketplace.
The Power of Word-of-Mouth in the Digital Age
Word-of-mouth has always been a powerful marketing tool. In the past, people relied on recommendations from friends and family when deciding which products to buy or services to use. Today, this word-of-mouth has moved online in the form of reviews.
Online reviews are essentially digital word-of-mouth referrals that can reach a much larger audience. They have become an integral part of consumers' buying habits, with 93% of consumers saying that online reviews influence their purchase decisions according to a survey by Podium.
The importance of reviews lies in their ability to build trust and credibility. Positive reviews can significantly enhance a business's reputation, while negative ones can damage it. Therefore, managing and responding to these reviews is crucial for small businesses.
Reviews Drive Sales
One cannot underestimate the impact that online reviews have on sales. A study conducted by Harvard Business School found that a one-star increase in Yelp rating leads to a 5-9% increase in revenue. This shows how much weight customers place on online reviews when making purchasing decisions.
Moreover, positive reviews can also improve your business's visibility online. Search engines like Google take into account the number and quality of your business's reviews when determining your ranking in search results. Therefore, having numerous positive reviews can boost your SEO efforts and increase your visibility to potential customers.
Reviews Provide Valuable Feedback
Another reason why the importance of reviews should not be overlooked is because they provide valuable feedback about your products or services. By reading and analyzing your reviews, you can gain insights into what your customers like and dislike about your business.
This feedback can be used to improve your products or services, address customer complaints, and enhance the overall customer experience. In turn, this can lead to more positive reviews and increased customer loyalty.
How to Leverage the Power of Reviews
Given the importance of reviews, small businesses need to actively encourage their customers to leave reviews. This can be done by simply asking customers for a review after a purchase or service has been provided.
However, it's also important to remember that not all reviews will be positive. Negative reviews are inevitable, but they provide an opportunity for businesses to show their commitment to customer satisfaction. By responding promptly and professionally to negative reviews, businesses can demonstrate their dedication to resolving issues and improving their service.
In conclusion, online reviews have become a powerful tool in today's digital marketplace. They play a crucial role in shaping consumer perceptions and influencing purchasing decisions. Therefore, understanding the importance of reviews is essential for small businesses looking to succeed in today's competitive market.
By encouraging customers to leave reviews and responding appropriately to both positive and negative feedback, small businesses can leverage the power of online reviews to build trust with consumers, increase sales, improve their products or services, and ultimately grow their business.
In today's digital age, the internet has seamlessly woven itself into the fabric of our daily lives. It's become a reflection of the physical world, and this connection is only growing stronger as technology advances. Notably, tech giants like Google and Apple have taken significant strides in creating more precise digital representations of our surroundings, and these developments have profound implications for businesses, especially at the local level.
You might be wondering: Does your local business really need a website? To answer that question, let's take a closer look at the evolving landscape of online marketing and the crucial role of websites in your business's success.
Mapping the Digital Landscape
Google and Apple Maps have become our digital cartographers, deploying vehicles that traverse the globe, capturing 360-degree images and videos to construct a comprehensive digital landscape within their platforms. Imagine navigating through Google's digital realm much like you would drive along a city street. You find yourself surrounded by virtual buildings and businesses, each enterprise represented by a Google Business Profile.
Now, picture this scenario: you decide to "stop" at one of these businesses in the digital world, similar to pausing at a Google Business Profile. What do you see? You can observe the business name on the digital signage, confirm the address to know your location, perhaps glimpse a phone number displayed on the virtual windows, and glean a rough idea of what the business offers from its digital signage.
The Missing Piece: Your Website
Suppose this business aligns perfectly with your needs or the problems you wish to solve. In the physical world, you would simply walk through its doors. However, in Google's digital domain, lacking a website is akin to presenting a flimsy cardboard cutout. No matter how well-crafted that virtual representation may be, it ultimately leaves visitors unsatisfied.
Think about the disappointment of someone who thought they had discovered a potential solution, only to find an empty void when they expected more. As a small business, you cannot afford to let this happen.
Empowering Your Digital Storefront
When someone visits your digital storefront, which is your website, they should experience a seamless journey that leads to conversion. Your website should:
1. Immediately Recognize Your Value: Visitors should instantly recognize that they're in the right place to address their needs or problems.
2. Clear Articulation of Solutions: Your website should provide a clear articulation of the challenges or needs your potential clients face.
3. Demonstrate Your Expertise: It should help them understand how your business resolves these challenges or satisfies their needs.
4. Showcase Your Uniqueness: Your website should offer compelling reasons for visitors to choose your business over the competition.
5. Facilitate Engagement: It should prompt visitors to share their contact information, including their name, email address, and phone number.
In essence, your online presence should never resemble a cardboard cutout. It is essential to equip your clients and potential customers with the tools they need to access your products and services effectively.
Evolved Marketing: Your Partner in Success
At Evolved Marketing, we understand the evolving landscape of digital marketing and the crucial role of website and local SEO in your business's growth. We specialize in crafting websites that not only look impressive but also function seamlessly to drive conversions. Our local SEO strategies ensure that your business shines in the digital realm, making it easy for potential customers to find and engage with you.
In a world where the digital and physical realms are increasingly intertwined, your website is your bridge between the two. It's not just a digital storefront; it's a powerful tool for connecting with your audience and driving business growth.
Don't settle for a cardboard cutout in the digital landscape. Embrace the potential of your website and local SEO with Evolved Marketing, and let's evolve your business together. Contact us today to discover how we can help your business thrive in the digital age.
In today's digital age, having a strong online presence is crucial for businesses. Google Business Profile plays a vital role in enhancing your online visibility and attracting potential customers. While it primarily focuses on providing essential information about your business, did you know that you can also add social media links to your Google Business Profile? In this blog post, we will explore the benefits of adding social media links to your profile and provide you with a step-by-step guide to help you get started.
Why Add Social Media Links to Your Google Business Profile:

Social media platforms have become an integral part of our daily lives, and leveraging their power can significantly benefit your business. By adding social media links to your Google Business Profile, you can:
a) Increase engagement: Social media platforms allow you to interact directly with your audience, fostering engagement and building relationships.
b) Showcase your brand personality: Social media offers a more informal and personal approach to showcasing your brand's voice, culture, and values.
c) Drive website traffic: Social media profiles often link back to your website, helping you generate more traffic and potentially convert visitors into customers.
d) Boost search engine visibility: Google considers social signals as a ranking factor, so having active social media profiles can positively impact your search engine optimization efforts.
How to Add Social Media Links to Your Google Business Profile:

Now that we understand the benefits, let's dive into the step-by-step process of adding social media links to your Google Business Profile:
Step 1: Sign in to your Google My Business account.
Step 2: Go to the "Info" tab in the dashboard.
Step 3: Scroll down to the "Add profile short name" section and click on the pencil icon.
Step 4: Enter the short name for your business profile. This will be used to create a unique URL for your Google Business Profile.
Step 5: Once you've set the short name, you can click on the pencil icon next to the "Links" section.
Step 6: Select the type of link you want to add (e.g., Facebook, Twitter, Instagram, etc.).
Step 7: Enter the corresponding URL for each social media platform.
Step 8: Click "Apply" to save your changes.
Best Practices for Optimizing Your Social Media Links:

To make the most of your social media links on your Google Business Profile, consider these best practices:
a) Regularly update your profiles: Keep your social media profiles active and up to date with fresh content and engaging posts.
b) Use compelling visuals: Incorporate eye-catching images, videos, and graphics to attract attention and increase click-through rates.
c) Monitor and respond to comments: Actively engage with your audience by responding to comments, messages, and reviews.
d) Track performance: Use analytics tools provided by each social media platform to measure the effectiveness of your social media efforts.
By adding social media links to your Google Business Profile, you can amplify your online presence and connect with your target audience on a deeper level. The process is straightforward and can significantly benefit your business in terms of engagement, brand visibility, and website traffic. So, take the time to optimize your Google Business Profile and unlock the potential of social media to help your business thrive in the digital landscape.
Do you find it challenging to come up with fresh ideas for your social media content? Perhaps you're struggling to craft a witty caption for that adorable photo of your furry friend wearing a sweater. Or maybe you're tasked with developing a week's worth of engaging social media posts, or even an entire month's content calendar for your business.
For small and medium-sized businesses, time is often a precious commodity. Spending time on coming up with new ideas for social media can be consuming.
As you stare at an empty social media content calendar, you might find yourself struggling to come up with ideas. To help jumpstart your creativity, here are some ideas to consider and inspire you.
Let's get Personal
On social media, consumers typically don't invest in a brand or product until they can relate to the story behind it. To create that connection, don't hesitate to infuse a personal touch into your social media content. These social media ideas can help to humanize your brand and make your feed feel more relatable to your audience.
Reintroduce yourself and your brand to your audience - Writing a post about how you or the business owner got started can resonate with both long-time and new followers. Some people who recently started following your account may have missed your original introduction posts. Refreshing your audience's memory about the who, what, when, where, why, and how behind your brand is always a good idea. Including photos with faces has been proven to boost engagement by almost 40 percent compared to images without faces, so don't hesitate to use selfies to showcase the friendly face behind your business on social media.
Behind the scenes - Offering a glimpse into the inner workings of your business can make for compelling content (especially when done with video). If your industry involves on-site services or in-office services, consider creating a video tours of different locations to share on social media channels. This can add an interesting and engaging perspective to your content.
Your own Story or struggle - It's likely that your clients are not the only ones facing difficulties, and your followers may also be able to relate, which can result in increased engagement with your post. As any social media expert will attest, establishing a personal connection can be incredibly impactful.
Keep the quotes coming - Who inspires you? Do a Google search to find any quotes from these people. Alternatively, you can search for quotes that are relevant to your industry. Sharing quotes is a great way to provide your audience with a glimpse into what motivates you, and can help to establish a deeper connection with your followers.
The morning routine - Capture the fun and deliciousness of your morning routine by snapping a workout selfie or taking a mouth-watering picture of your avocado toast creation for breakfast.
The inspiration for your business - Whether you were driven by a lack of industry options or a desire to help others through your product or service, showcasing a brand's motivation can help users feel more connected to it. This type of content can foster a deeper sense of engagement with your audience.
A favorite childhood memory - This social media strategy is an excellent approach to highlight the human side of a business or brand and to connect with your audience in a nostalgic manner. It serves as a reminder to customers that there are real people behind the business, which can help build positive sentiment and enhance the brand's reputation.
Hometown vibes - This is a fun way to provide your followers with a glimpse into your personal life while also showcasing local businesses and attractions.
Fun or Unusual Hobbies - This can add a human touch to your brand and foster a deeper sense of personal connection with your followers.
Celebrate good times come on - Whether it's a birthday, anniversary, or personal achievement, sharing it on social media can help your followers feel like they are a part of your journey.
Personal Cause or Charity - Sharing information about a cause or charity that holds significance to you can foster a brand loyalty and demonstrate to your followers that you prioritize more than just financial gain.
Leverage fun social media posts for more engagement
There are a few social media ideas that are surefire ways to boost interaction, with comments and engagement pouring in. These easy wins can help you get the ball rolling and increase engagement with your audience.
The all important question - Audiences are often eager to share their unique perspectives on various topics, so don't hesitate to ask for their input.
Poll it out - A quick poll is an excellent way to gauge where you audience stands on a new design or extended operating hours. Instagram Stories, Facebook, and LinkedIn offer great in-platform polling features to gather feedback from your followers.
Book review - Sharing a good book recommendation can be a great way to connect with your followers, particularly those looking for trusted sources for reading recommendations. Whether, it's an industry-relevant professional resource or a piece of fiction that your client has enjoyed, sharing it on social media can engage your audience and spark interesting conversations.
What's Your Recommendation? - Ask your audience for recommendations on books, TV shows, Apps, Music, Local Restaurants, or anything else relevant to your industry. This can be a great way to engage with your followers and get them involved in the conversation.
Give it Away Now - Running a giveaway is an effective way to boost engagement on social media and attract new followers. By offering rewards, followers are incentivized to participate and spread the word to their own followers. However, it's important to review the rules and regulations for giveaways on different social platforms as they may have specific disclosure requirements that need to be included in the post.
Meme it up - Memes are universally loved, and most businesses can find a way to incorporate them into their content feed in a way that aligns with their brand. They're an effective tool to add humor to social media content and connect with the audience in a fun and light-hearted way.
Quiz/Trivia - Quizzes and trivia are not only entertaining but also a clever way for businesses to interact with their audience and evaluate their knowledge on industry-specific subjects. Not to mention, they generate direct engagement with social media content through likes, comments, or shares, increasing the account's visibility and making it more noticeable to potential customers.
Caption content - A brand can share a humorous or captivating image and encourage followers to create the perfect caption for it. This social media strategy has the potential to generate a substantial increase in comments, thereby boosting the post's engagement.
"Guess the product" - This social media idea involves posting a close-up image of a product and challenging followers to guess what it is. It prompts the audience to think about the product offerings, potentially driving sales and conversions from curious prospects.
Social Media Challenge - Incorporating social media challenges into a brand's social media feed is a fun idea that has the potential to go viral. Creating a challenge that relates to the brand or industry and encouraging the audience to participate and share their own results on social media can generate buzz, build a community, and increase the visibility of the brand name or hashtag.
Let your audience know you are a thought leader
Use these social media ideas to position yourself as thought leaders in their industries based on their years of experience and expertise:
How to Tutorial - The desire for video content is on the rise, with over half of people stating that they would like to see more video content from the brands or businesses they follow. Take a few minutes to record a quick life hack or how-to tip that would be valuable to their online audience.
Infographic - Infographics are an excellent way to present information on a specific topic, and they tend to be highly shareable, resulting in increased engagement rates.
Quick Tip - A weekly post dedicated to sharing useful tips or advice, known as "Tip Tuesday", can be effective across a range of industries.
Learn from my mistakes - A leader who acknowledges a failure and transforms it into a learning experience or a chance for development can exhibit authenticity, which is a quality that followers seek on social media. Use these failures to gain traction from your social audience.
Celebrate the win - a well-crafted humble brag can help a brand gain support from followers and showcase the effort they've invested in achieving noteworthy accomplishments.
Testimonials - You can enhance your brand's credibility by showcasing positive feedback from clients, customers, and colleagues who have had great experiences with the business. Testimonials are a powerful way to build trust and demonstrate the value of your brand.
"Secret Sauce" - Showcase what makes your business unique and highlight its strengths in a social media post. Share interesting insights without revealing confidential information to position the business as an industry leader and build credibility.
6 O'Clock News - By keeping followers informed about the latest trends, news, and developments in the industry, businesses can position themselves as authoritative and well-informed sources of information.
My Predictions - Share original analysis and predictions about the future of the industry, and provide recommendations on how clients or customers can prepare for the upcoming changes. By sharing insight predications, the brand can position itself as a valuable source of niche intelligence, and when the predictions come true, it can further establish the brand's authority.
Q&A session - Engage with your audience by inviting them to ask questions about you, your brand or industry, and respond with informative and thoughtful answers that showcase your expertise. Hosting a Q&A session not only demonstrates transparency, but also establishes credibility, which can make a brand more appealing to potential customers. You can host Q&A sessions on various social media platforms, such as Instagram Reels, TikTok, and Facebook Stories.
The Podcast you like - Promote a culture of learning by sharing valuable resources! Brands and entrepreneurs can occasionally share podcasts that have influenced their thinking and shaped their perspectives. Posting about a favorite industry-related podcast allows the audience to gain insights into the resources that have helped shape the brand they support. This also offers a refreshing change from the usual promotional content.
Embrace the controversy - While some brands may be more comfortable than others to express opinions on controversial topics, taking a stand on a hotly debated issue can stimulate engagement and conversation. It can also be a powerful technique for communicating the brand's values.
Classic social content considerations
You may have seen these social media ideas before, but don't underestimate their power to enhance your online visibility.
The throwback method - Consider reposting older blog posts, graphics, quotes, and professional milestones, as well as sharing throwback photos from personal or work-related trips. These are effective social media ideas that can help to improve your online presence.
Seasonal or holiday highlight - The seasons and holiday offer great ideas for posts. Keep an eye on the calendar and use it to post your own content.
Solutions to the problems - To effectively sell any product or service, it is essential to communicate how it solves a particular pain point. Brands can use social media to highlight what makes their offering stand out or address the unique challenges it solves. One way to create such content is by featuring an influencer who discusses the product or service in a video, which the brand can repost. Alternatively, the brand's owner or employees can talk about their goals and vision behind creating the product or service.
Lean on others for what to post on social media
"The Take-Over" - Give an employee the opportunity to take over the social media for a day. This not only adds a fresh perspective and content style to the feed, but also provides a full day of content that does not need to be scheduled into the social media management platform. Usually, brands offer some guidelines for takeovers but allow the person taking over to put their own creative touch on things.
Let the clients/customers shine - One effective way to build trust and credibility with your audience is to showcase satisfied customers using your product or service and highlighting their experience. This social media post provides real-life examples of your offering in use, which people love to see.
Shout Out - Mentioning or tagging another brand or account in a post can be an excellent strategy to boost the chances of the post being shared and reaching a wider audience. Additionally, it can foster strong relationships with other brands, opening up opportunities for valuable collaborations.
Interview with a Guest - One simple method to achieve this objective is to arrange a video call using Zoom or Google Meet between yourself and a noteworthy guest. Conducting the interview virtually and recording it can also be done through these services. Once the interview is complete, you can download the video file and upload it to the social media platform that suits your needs. It is advisable to seek guests whose followers or subscribers share a common interest with your target audience. This way, people discovering the business through the interview are more likely to turn into potential customers.
Showcase User Generated Content - UGC has established itself as a critical component of digital marketing, and its effectiveness is apparent. Compared to meticulously crafted, stages promotional visuals, content produced by users is more genuine and relatable. UGC enables the audience to envision themselves utilizing the product or service, and it also signifies that the brand values and interacts with its customers.
Hosts or Attends - To improve the likelihood of attracting a larger audience, Facebook and LinkedIn provide dedicated event pages for hosting events. If you are participating in an event, it's advisable to search for relevant events hashtags before creating a post. Additionally, sharing real-time updates during the event can be an effective way to engage with followers.
Share other profiles - Aside from promoting your own account, enticing your followers to join you on other platforms, it's worthwhile to share profiles of industry influencers or other pertinent accounts to foster connections and broaden the reach.
With its user-friendly interface and simple drag-and-drop functionality, Wix has become one of the most popular website builders available today. However, despite its many advantages, Wix's limitations could negatively impact your Local Search Rankings.
What is Wix and why people like using it
Founded in 2006, Wix is a highly regarded website builder that enables users to create visually appealing websites and online stores using an intuitive drag-and-drop interface. Its extensive range of features and user-friendly design have made it one of the most widely used website builders on the market today.
User-Interface
Wix's intuitive drag-and-drop design is a major advantage, as it allows users to build beautiful websites quickly and easily without any coding or technical expertise. With Wix, even those without a technical background can create a professional-looking website they can be proud of in no time. Its user-interface makes it accessible to anyone, regardless of their experience or skill level.
Free
Wix's free plan is a significant draw for beginners and small businesses venturing into web design, as it allows them to get started without any upfront costs. However, the free version of Wix has some limitations, such as restricted storage space and lack of access to certain plugins. While businesses can upgrade to access more advanced tools like marketing automation, this requires purchasing additional plans. Additionally, Wix's custom template system means users have limited control over the design and functionality of their website.
Style & Templates
Wix offers an extensive selection of templates and customization options to meet the needs of every user. With hundreds of professionally designed templates to choose from, you can easily find one that aligns with your brand. Furthermore, Wix provides a variety of customization tools such as fonts, backgrounds, images, and more, allowing you to personalize your site to your exact specifications.
The Necessity of Local SEO for Small Businesses
Local SEO is crucial for small businesses to gain online visibility in local search results. With good local SEO, businesses can reach potential customers who have a specific intent to purchase within their immediate area.
Here are some tips for optimizing your website for Local SEO:
Claim all relevant online listing and accounts for your clients, including their Google Business Profile, Yelp, and Facebook.
Create a locally targeted content, such as promotions for events or activities in the community.
Perform an SEO audit that examines your keywords, citations, social engagement and other factors.
By adhering to these best practices, you can increase your chances of being discovered by potential customers in your target areas, enhancing your visibility, credibility, and sales.
Reasons why Wix and Local SEO don't mix
Although building and managing your website on Wix may appear to be a convenient choice, it has several significant drawbacks when it comes to Local SEO. Given that search engines algorithms are continually evolving, businesses must keep up with the latest best practices to remain competitive in their respective industries.
Customization restrictions
Because Wix is a simpler website builder, the amount of customization options available to users is limited, especially when compared to open source code-intensive builders. Since most of Wix's websites are pre-designed with templates, more advanced users can only add custom code through an HTML code element, which can restrict their ability to add unique features.
If the customization options provided by Wix do not meet your needs, it may have a negative impact on the user experience that you aim to offer on your website, which could harm your business.
The Need for Speed
According to Search Engine Journal, reports dating back to 2020 suggest that Wix websites contain code bloat, meaning that the site contains unused or unnecessary code that can cause web pages to load slowly. This can negatively affect user experience, causing visitors to leave the site before it finishes loading. Search engine algorithms take this into account when ranking pages.
Responsive Design Missing
Although Wix has improved the responsiveness of its websites over time, this isn't always the case. When creating a responsive website using Wix, you must carefully choose the website theme or template. It's best to select templates with simple, minimalist, and static designs that don't require too much loading or rendering when switching from desktop to mobile view.
Crazy URL Structure
Wix uses URLs that have a unique link structure with a hashtag (#) in each link, which is not a preferred format among most SEO professionals. This structure indicates that the link is served through JavaScript, which has historically caused issues for websites using it with regard to search engine crawling and indexing.
Limitations of Content
While Wix offers various options for creating content, its blogging capabilities leave room for improvement. Basic features like tags and categories, crucial for creating SEO-friend content, are available, but there is no option to create private or backdated posts. Moreover, the writing interface only offers plain text editor, which can be limiting for formatting the content creatively.
Another limitation is the absence of advanced customization tools, such as schema implementation, which can hinder the creation of unique and distinguished content that stands out in search engine result pages.
Migrating is not fun
Although it is possible to transfer your entire Wix website to WordPress, it requires a significant amount of manual effort. In addition to establishing your hosting and WordPress site, and importing your blog post using the RSS feed method, you will also have to manually duplicate your Wix pages on WordPress.
This manual process of transferring pages can be extremely time-consuming, and you'll also need to redesign those pages from scratch, which is less than ideal.
Less than ideal SEO controls
Despite offering some rudimentary SEO controls like page titles and descriptions, the platform falls short in providing more sophisticated options for optimizing content for search engines. One major drawback is the absence of an easy-to-use feature for modifying the auto-generated sitemap, which can be a time-consuming process when compared to utilizing a tool like Yoast.
Furthermore, customization of file names generated by Wix is limited, making it challenging to optimize for SEO.
Conclusion
It is crucial to comprehend the advantages and disadvantages of utilizing Wix. Although exchanging money for ease of use may appear appealing at present, taking a long-term approach may be more advantageous.
As businesses aim to expand over time, they frequently outgrow the capabilities of Wix in a brief period. Local SEO is a fundamental aspect for small and local enterprises, and choosing a platform that hinders proper execution may not be the best decision.
Hello there, I have a helpful tip on building citations that many businesses seem to overlook. Regardless of whether you're using our listing service (GetFound) or creating citations on your own, it's crucial not to underestimate the importance of the description field.
Why Business Descriptions are Important
Suppose you purchase from our service and are filling out the description section. This field provides an opportunity to include additional keywords. While I wouldn't claim that using keywords in your Google Business Profile description directly affects your rankings, including them in your citation description is highly significant.
To illustrate, consider the description of the law firm, "Law Office of Alex Hernandez" (who are not our clients). They mention "At the Law Office of Alex Hernandez, we've been advocating for the rights of injured clients for over 30 years".
The frustrating issue at hand is that hardly anyone searches for "advocating for the rights of injured clients" on Google. If someone in Clearwater Florida, is seeking a personal injury lawyer, they would type in "Personal Injury attorney Clearwater Florida" in their Google Search.
Therefore, it's crucial to include those relevant keywords in your description.
How to Improve your Business Description
To rephrase this for the example brand, a possible version would be "For exceptional personal injury representation in Clearwater, Florida, choose the Law Office of Alex Hernandez". This simple tweak has a significant impact as it incorporates the keywords "personal injury" and "Clearwater, Florida".
It's essential to consider how Google's algorithm functions. Your Google Business Profile is like a business entity at Google that the algorithm continuously crawls to gain a better understanding of your business. This means it scrutinizes your citations as well.
In this scenario, The Law Office of Alex Hernandez is not providing Google with the information it requires to comprehend their business. Hence, the objective with the description is to include additional keywords, so that you can inform Google about your business and the keywords you want to rank for.
In the Beginning…
Additionally, it's crucial to emphasize those keywords upfront since some websites only allow a limited amount of space, such as Foursquare. Strive to incorporate those valuable keywords in the opening sentence.
In you take a look at The Law Office of Alex Hernandez website, it's evident that they prioritize being a Personal Injury attorney.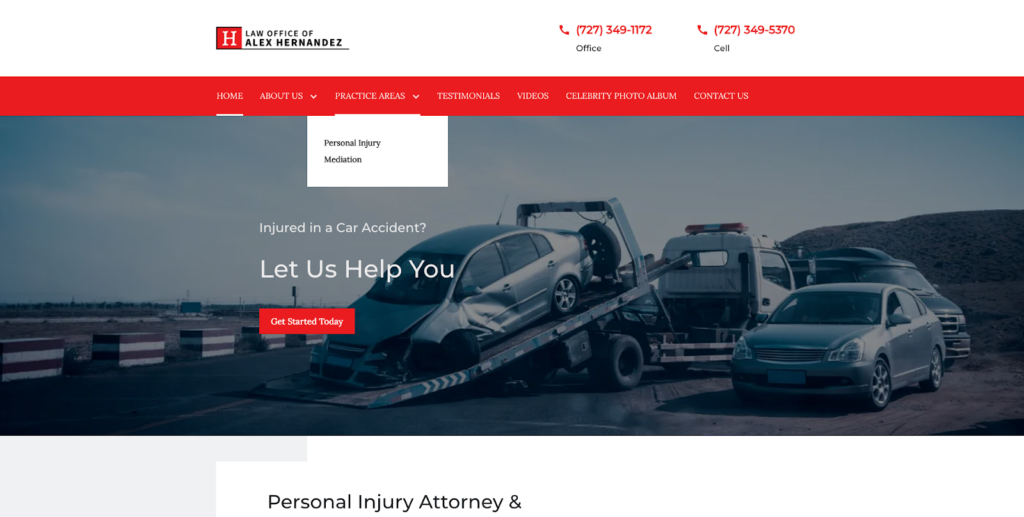 Personal Injury is a crucial keyword that matters to them, and they should undoubtedly include them in their citation description, which they are not doing currently.
When you add a business listing or order citations through a service like ours, it's crucial to keep this in mind. This practice will enable you to maximize the benefits of your business listings.
Until next time!
In today's digital age, having a website for your medical practice is essential for attracting new patients, providing information, and building your online presence. However, simply having a website isn't enough. To rank well on search engine result pages (SERPs) and attract potential patients, your website must meet certain quality standards.
One of the main factors that search engines like Google consider when evaluating the quality and credibility of a website's content is E.E.A.T - Experience, Expertise, Authoritativeness, and Trustworthiness. Google has emphasized the importance of E.E.A.T, particularly for websites that offer information related to health, finance, and other areas where inaccurate information could have serious consequences.
In addition, Google has also created a special category called YMYL - Your Money or Your Life, which includes web pages that could potentially impact a user's health, safety, or financial well-being. This category includes pages related to medical advice, financial planning, and legal information, among others.
For medical practices, this means that your website and all the content contained within it are held to a much higher standard than other types of websites. It's crucial that your website meets the criteria for E.E.A.T and YMYL if you want to rank well on SERPs and attract potential patients.
Let's take a closer look at what each aspect of E.E.A.T entails:
Experience - This refers to the level of experience a person might have with a particular subject or topic. For medical practices, it's important to provide an understanding of the experience involved in a particular medical procedure or treatment. This can be achieved by providing information about your medical qualifications, the number of procedures you have performed, and other relevant experience-related information.
Expertise - This refers to the level of knowledge and experience a person or organization has in a particular field. For medical practices, it's essential that the content on your website is written by people who are experts in the subject. This could be demonstrated through relevant educational qualifications, work experience, or other evidence of expertise.
Authoritativeness - This refers to the level of authority a person or organization has in a particular field. This can be demonstrated through awards, media coverage, or other evidence of recognition from other respected experts in the field. In the context of medical practices, it's critical that the content on your website is written by people who are considered authorities in their field.
Trustworthiness - This refers to the reliability of and credibility of the information on your website. This can be demonstrated through various means, such as citing reputable sources, having a clear and transparent disclosure policy, and providing accurate and up-to-date information.
To ensure that your website meets the criteria for E.E.A.T and YMYL, it's important to work with a marketing company that has experience working with medical practices and understands these concepts. A marketing company that doesn't understand E.E.A.T and YMYL may not be able to help you achieve the results you are looking for.
When looking for a marketing company, be sure to do your research and choose one that has experience working with medical practices and has a proven track record of getting results. By working with the right marketing company and ensuring that your website meets the criteria for E.E.A.T and YMYL, you can attract more potential patients and build a strong online presence for your medical practice.