In this article we continue our Social Media Advertising How-To guides. So…Instagram here we come.
Here are some of the good and bad of Instagram.
Pros
Instagram ads are not intrusive – Users are cool with ad content and don't just scroll through.
Engagement – The average Instagram user spends 53 minutes on the platform a day. With 26.3 Million users…that is a lot of exposure.
Shopify – eCommerce is a huge aspect of online marketing and Shopify is one of the biggest platforms. Instagram took advantage and now has integration with Shopify.
Facebook – Facebook purchased Instagram and now both audiences can be used together. What you post on Instagram can be shared to Facebook and vice versa.
Business – Instagram users like businesses. A lot. 90% of Instagram users follow at least 1 business and 83% of users discover new products and services on the platform.
Cons
Demographic – Compared to Facebook and LinkedIn the demographic is much younger.
Influencers – They "control" the platform. A single brand will never reach the audience that some of the people have. This does open unique opportunities for influencer marketing.
Brands – Fashion & Beauty are 19 of the top 20 brands of Instagram. A lot of other businesses shy away because of this. It just means the market share for other brands to expand is massive
Let's get into the nuts and bolts of Instagram Advertising so you can start using this for expanding your brand.
Value Proposition
Before you start any advertising campaign you should understand the value proposition. This can be for the overall company, it can be for a particular service or product.
Regardless you should know how to communicate the value your company, service or product is going to give the audience you are advertising to.
Launching an Instagram Ad Campaign
You can run ads directly through the Instagram platform, but we highly recommend that you use the Facebook Ads manager to run your Instagram ads.
This will give your business more targeting, monitoring & demographic tools than you would give just from the Instagram platform.
To do this you will need to link your Instagram account to your Facebook account. Use this link to help if needed.
Now head over to the Facebook Ads Manager. Once there hit the create button. It is green and can be found in the top left corner.
You will see the following: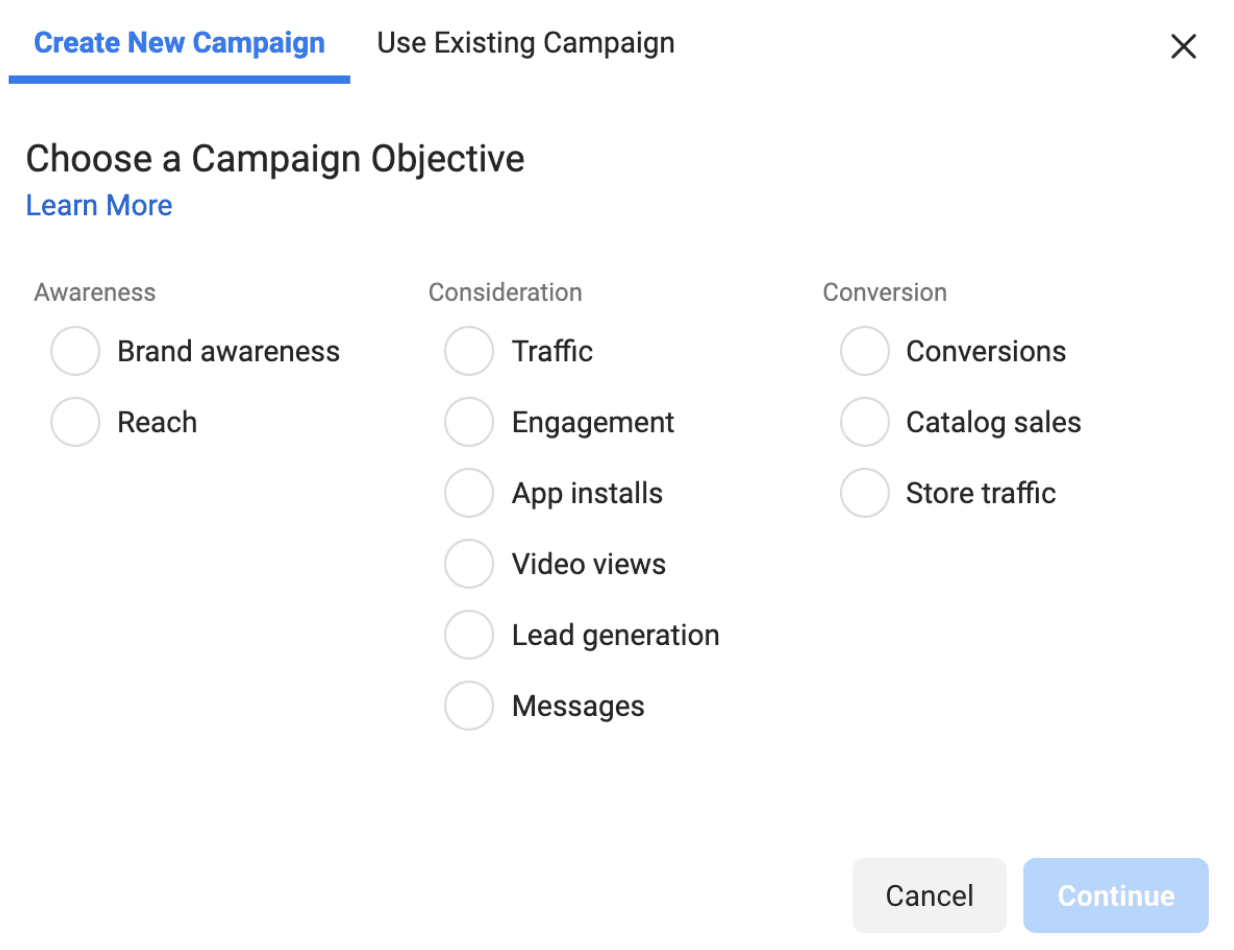 Now you need to choose which campaign objective you want to have for your advertising.
There are a lot of options here. Ensure that you pick the right based on the goals of the overall marketing campaign you are working on.
It will take you to the next page that looks like this: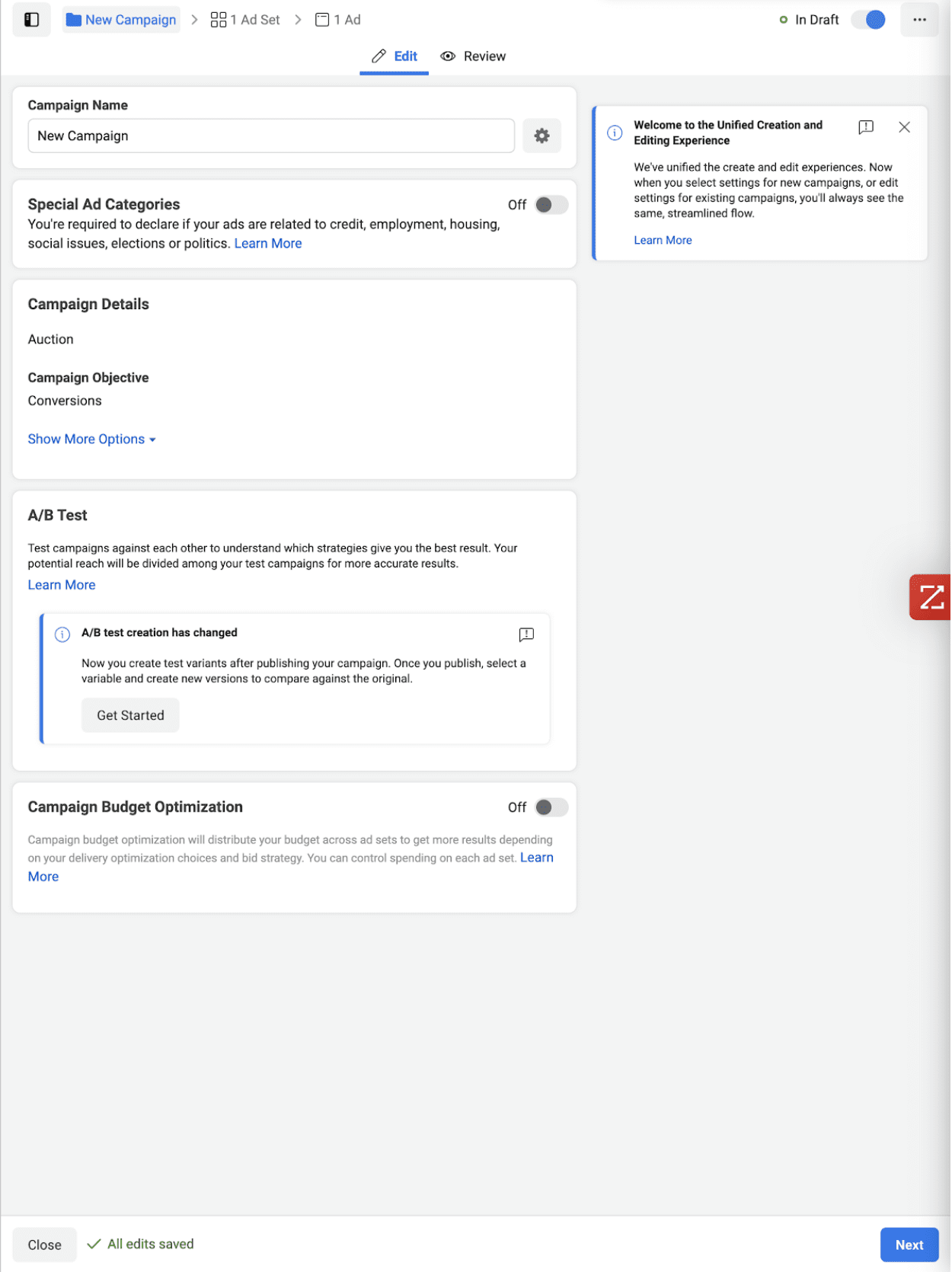 From here you can name the Campaign by double clicking into that field. The next section for "Special Ad Categories". Look at what this says and if you fall under these categories ensure that you turn this on. Otherwise your advertisement will not get approved.
"Campaign Details". Auction is how all paid advertising you will be doing is going to be run, and there is no other option for you to pick.
"Campaign Objective". You can change your mind here from what you picked from the beginning, but you most likely won't.
A/B Testing – I highly recommend that you push the get started button. A/B testing is one of the best ways to continuously improve an advertising campaign.
Campaign Budget Optimization – This option will allow you to pick between a daily or lifetime budget. If you have a specific budget that is only going to be for a specific amount of time then choose "Lifetime Budget". If you are going to have an on-going campaign choose "Daily Budget".
"Campaign Bid Strategy". This is an option you can choose. It has the following Options:
Lower Cost – Get the most results for your budget
Cost Cap – Control costs while getting the most volume of results
Bid Cap – Control your bid in each auction
Minimum ROAS (Return on As Spend) – Control you ROAS while for best value
Target Cost – Get a consistent cost per result
When first starting out in advertising we recommend always using "Lower Cost" for an ongoing campaign. Meaning when you have chosen the daily amount. When doing a lifetime budget we recommend using Cost Cap.
Once you have determined how to run your campaign budget, hit the blue button on the bottom right to go to the next page.
This will take you to the Ads Set page and it will look like the following: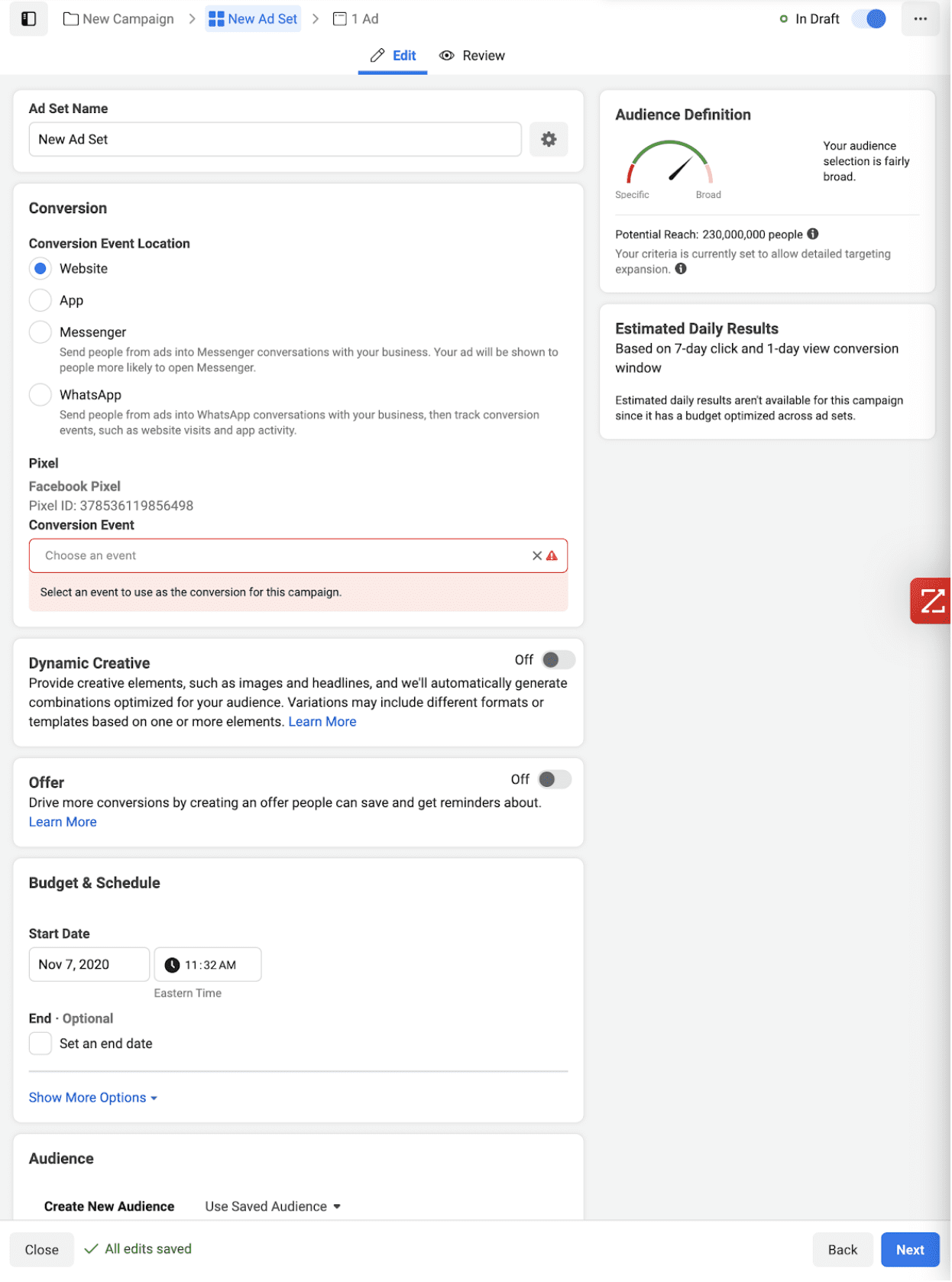 If you have a question about what ad sets are, press the link to get an explanation. Double click in the ad set name field to change it to what you want.
Conversions – You are going to choose where your conversions are going. Website, Aps, Messenger or WhatsApp.
Facebook Pixel. You should have this for all your campaigns. Use this link for instructions on how to set it up.
"Conversion Event". When you set up your Facebook Pixel it will have specific events to choose from. Hit the drop down and you can choose and one of the events you set up.
Dynamic Creative – I personally don't use the option, but if you are short for time, this might be helpful.
Offer – If you are trying to sell something specific online you should absolutely use this tool from Facebook.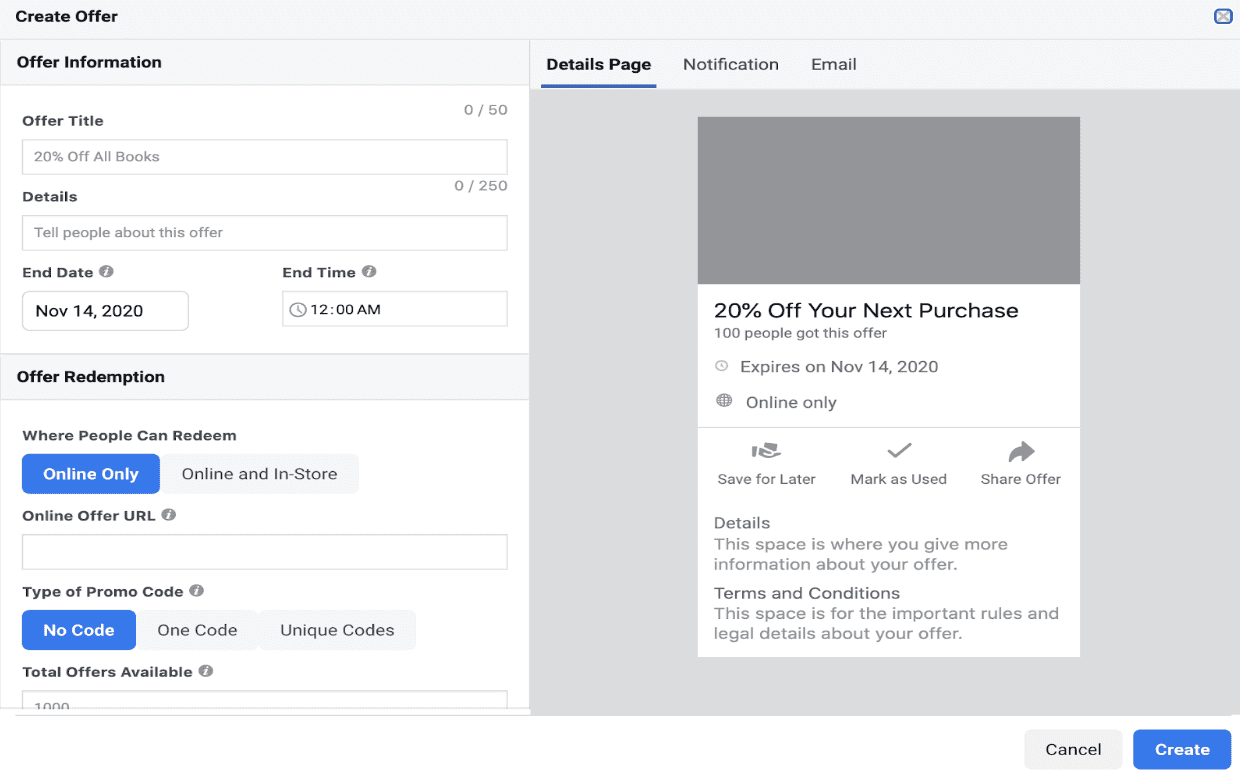 As you can see from the picture above it gives you a lot of options to use. Check it one and use those that are applicable.
Budget Schedule – Here you can choose when you ad starts and ends. This will be mainly for the "Lifetime Budget".
Now you will pick your audience based on the customer personas you should already have if you are doing a marketing campaign.
Placements – For Instagram advertising you want to hit the manual option. It will open the following: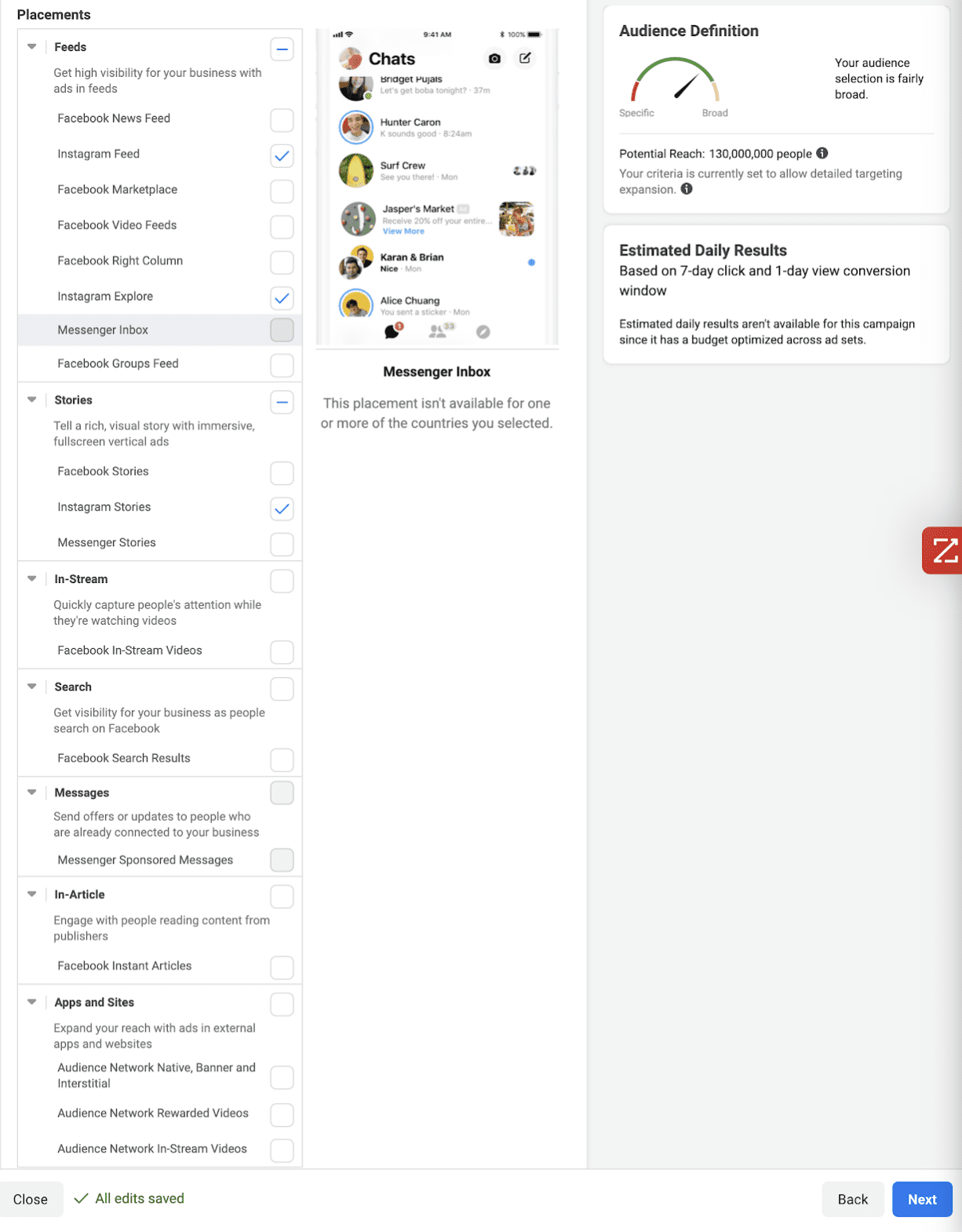 Pick instagram and then choose what instagram you want your advertisement to show in.
From here just hit the next button and go to the next page and see the following: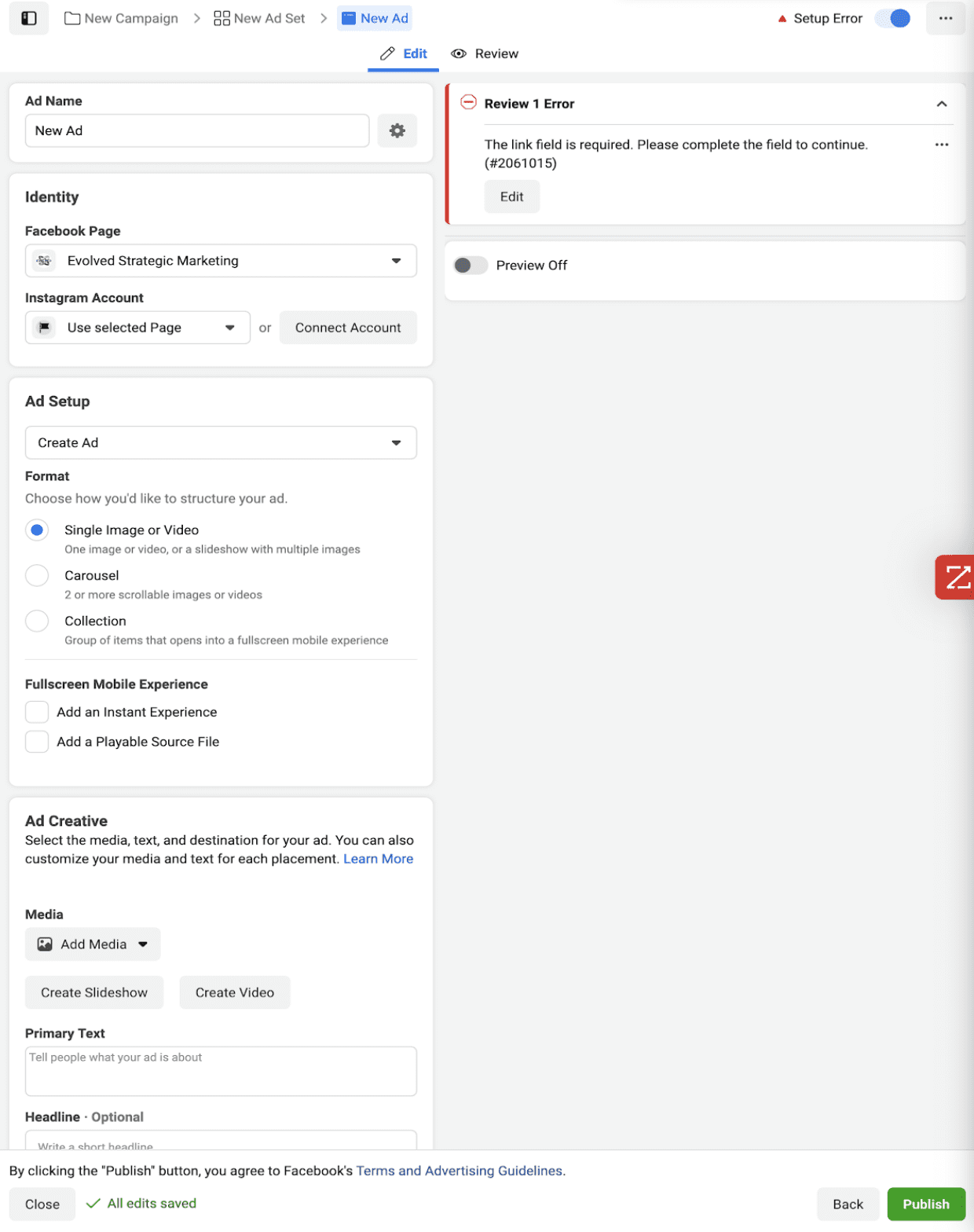 You can name the ad in the "ad name field". If you have multiple pages it will ask you to pick the page it is associated with.
Ad Set Up – You can create a complete new ad, use an existing post or creative hub mockup (Facebook will help you put together an ad). As a marketer I do not use this feature, but it might be helpful for those who need it.
Pick between single image or video, carousel or collection. We recommend you use single image or video the most. Trying to overwhelm an audience with too many images will have a negative impact.
Ad Creative – This is where you will place your image or video. Type in your copy. You will put the destination (website or Facebook event) and put a CTA button. You can pick language and since you set up your Facebook pixel this is how it will be tracked.
Here are some tips on Ad Creatives
Images and Video are more important on Instagram. This is what people are searching for on this application.
Attention to being real. Real people, real service photos and real product photos. People connect to real and if it is all staged, it will get less engagement.
Unlike other platforms – communicate your message without words. Don't put words in your ads.
Video – Make sure the first fews seconds have impingement. They are the most important.
Add captions for videos. Sound will be off in most cases.
Work to get the emotional response with the content
Stage content doesn't sell. Organic real content does.
A/B Testing
Always make more than one ad. Then test each against each other. Use two week increments to determine the outcome. Scrap the one that performs the worst. Then create another ad to challenge the best performing ad. Continue until you have optimal ad performance.
Monitoring Analytics
Facebook Ads Manager comes equipped with very in-depth analytics. Use this to track your campaigns and really understand how well your campaign is doing.
Check it every week and compare your ads. Fix accordingly. Play with the audiences and CTAs to work on increasing conversions.
This takes time and isn't a 1 hour a week thing. You need to devote hours each week to ensuring your marketing campaigns are making progress.
If needed hire an internal staff member or agency to assist.
I hope you found this article helpful. Follow us on social media or subscribe to our blog to continue to get help tips.